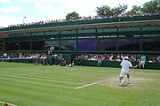 The Championships, Wimbledon
The Championships, Wimbledon, or simply Wimbledon (25 June – 8 July in 2012), is the oldest
tennis
Tennis
Tennis is a sport usually played between two players or between two teams of two players each . Each player uses a racket that is strung to strike a hollow rubber ball covered with felt over a net into the opponent's court. Tennis is an Olympic sport and is played at all levels of society at all...
tournament
Tournament
A tournament is a competition involving a relatively large number of competitors, all participating in a sport or game. More specifically, the term may be used in either of two overlapping senses:...
in the world, considered by many to be the most prestigious. It has been held at the
All England Club
All England Lawn Tennis and Croquet Club
The All England Lawn Tennis and Croquet Club , also known as the All-England Club, based at Aorangi Park, Wimbledon, London, England, is a private members club. It is best known as the venue for the Wimbledon Championships, the only Grand Slam tennis event still held on grass...
in
Wimbledon
Wimbledon, London
Wimbledon is a district in the south west area of London, England, located south of Wandsworth, and east of Kingston upon Thames. It is situated within Greater London. It is home to the Wimbledon Tennis Championships and New Wimbledon Theatre, and contains Wimbledon Common, one of the largest areas...
,
London
London
London is the capital city of :England and the :United Kingdom, the largest metropolitan area in the United Kingdom, and the largest urban zone in the European Union by most measures. Located on the River Thames, London has been a major settlement for two millennia, its history going back to its...
since 1877. It is one of the four
Grand Slam
Grand Slam (tennis)
The four Major tennis tournaments, also called the Slams, are the most important tennis events of the year in terms of world tour ranking points, tradition, prize-money awarded, strength and size of player field, and public attention. They are the Australian Open, the French Open, Wimbledon, and...
tennis tournaments, the other three Majors being the
Australian Open
Australian Open
The Australian Open is the only Grand Slam tennis tournament held in the southern hemisphere. The tournament was held for the first time in 1905 and was last contested on grass in 1987. Since 1972 the Australian Open has been held in Melbourne, Victoria. In 1988, the tournament became a hard court...
, French Open and US Open. Wimbledon is the only Major still
played on grass
Grass court
A grass court is one of the four different types of tennis court. Grass courts are made of rye grass in different compositions depending on the tournament...
, the game's original surface, which gave the game of lawn tennis its name.
The tournament takes place over two weeks in late June and early July, culminating with the Ladies' and Gentlemen's Singles Final, scheduled respectively for the second Saturday and Sunday.