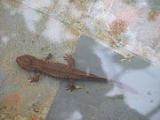 Tam Dao Salamander
The
Tam Dao Salamander
or
Vietnamese Salamander
(
Paramesotriton deloustali
) is a species of
salamander
Salamander
Salamander is a common name of approximately 500 species of amphibians. They are typically characterized by a superficially lizard-like appearance, with their slender bodies, short noses, and long tails. All known fossils and extinct species fall under the order Caudata, while sometimes the extant...
in the
Salamandridae
Salamandridae
Salamandridae is a family of salamanders consisting of true salamanders and newts. Currently, 74 species have been identified in the northern hemisphere - Europe, Asia, the northern tip of Africa and North America...
family.
It is found only in
Vietnam
Vietnam
Vietnam – sometimes spelled Viet Nam , officially the Socialist Republic of Vietnam – is the easternmost country on the Indochina Peninsula in Southeast Asia. It is bordered by China to the north, Laos to the northwest, Cambodia to the southwest, and the South China Sea –...
.
Its natural
habitat
Habitat
* Habitat , a place where a species lives and grows*Human habitat, a place where humans live, work or play** Space habitat, a space station intended as a permanent settlement...
s are subtropical or tropical moist lowland
forest
Forest
A forest, also referred to as a wood or the woods, is an area with a high density of trees. As with cities, depending where you are in the world, what is considered a forest may vary significantly in size and have various classification according to how and what of the forest is composed...
s, subtropical or tropical moist
montane
Montane
In biogeography, montane is the highland area located below the subalpine zone. Montane regions generally have cooler temperatures and often have higher rainfall than the adjacent lowland regions, and are frequently home to distinct communities of plants and animals.The term "montane" means "of the...
s, and
river
River
A river is a natural watercourse, usually freshwater, flowing towards an ocean, a lake, a sea, or another river. In a few cases, a river simply flows into the ground or dries up completely before reaching another body of water. Small rivers may also be called by several other names, including...
s.
It is threatened by habitat loss.