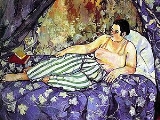 Suzanne Valadon
Suzanne Valadon
was a French painter born
Marie-Clémentine Valadon
at
Bessines-sur-Gartempe
Bessines-sur-Gartempe
Bessines-sur-Gartempe is a commune in the Haute-Vienne department in the Limousin region in western France.-Geography:The river Semme forms part of the commune's north-eastern border, flows westward through the northern part of the commune, north of Morterolles-sur-Semmes, a hamlet, then forms...
, Haute-Vienne, France. In 1894, Valadon became the first woman painter admitted to the Société Nationale des Beaux-Arts. She is also the mother of painter
Maurice Utrillo
Maurice Utrillo
Maurice Utrillo, , born Maurice Valadon, was a French painter who specialized in cityscapes. Born in the Montmartre quarter of Paris, France, Utrillo is one of the few famous painters of Montmartre who were born there....
.
Career
The daughter of an unmarried laundress, Suzanne Valadon became a
circus
Circus
A circus is commonly a travelling company of performers that may include clowns, acrobats, trained animals, trapeze acts, musicians, hoopers, tightrope walkers, jugglers, unicyclists and other stunt-oriented artists...
acrobat
Acrobatics
Acrobatics is the performance of extraordinary feats of balance, agility and motor coordination. It can be found in many of the performing arts, as well as many sports...
at the age of fifteen, but a year later, a fall from a
trapeze
Trapeze
A trapeze is a short horizontal bar hung by ropes or metal straps from a support. It is an aerial apparatus commonly found in circus performances...
ended that career.
In the
Montmartre
Montmartre
Montmartre is a hill which is 130 metres high, giving its name to the surrounding district, in the north of Paris in the 18th arrondissement, a part of the Right Bank. Montmartre is primarily known for the white-domed Basilica of the Sacré Cœur on its summit and as a nightclub district...
quarter of Paris, she pursued her interest in art, first working as a model for artists, observing and learning their techniques, before becoming a noted painter herself.
She modelled for
Henri de Toulouse-Lautrec
Henri de Toulouse-Lautrec
Henri Marie Raymond de Toulouse-Lautrec-Monfa or simply Henri de Toulouse-Lautrec was a French painter, printmaker, draughtsman, and illustrator, whose immersion in the colourful and theatrical life of fin de siècle Paris yielded an œuvre of exciting, elegant and provocative images of the modern...
(who gave her painting lessons),
Pierre-Auguste Renoir
Pierre-Auguste Renoir
Pierre-Auguste Renoir was a French artist who was a leading painter in the development of the Impressionist style. As a celebrator of beauty, and especially feminine sensuality, it has been said that "Renoir is the final representative of a tradition which runs directly from Rubens to...
, and
Pierre-Cécile Puvis de Chavannes
Pierre Puvis de Chavannes
Pierre Puvis de Chavannes was a French painter, who became the president and co-founder of the Société Nationale des Beaux-Arts and whose work influenced many other artists.-Life:...
, and is known to have had affairs with the latter two. In the early 1890s she befriended
Edgar Degas
Edgar Degas
Edgar Degas[p] , born Hilaire-Germain-Edgar De Gas, was a French artist famous for his work in painting, sculpture, printmaking and drawing. He is regarded as one of the founders of Impressionism although he rejected the term, and preferred to be called a realist...
who, impressed with her bold line drawings and fine paintings, purchased her work and encouraged her efforts. She remained one of Degas' closest friends until his death.
The most recognizable image of Valadon would be in Renoir's
Dance at Bougival
from 1883 (see Gallery), the same year that she posed for
City Dance
. In 1885, Renoir painted her portrait again as
Girl Braiding Her Hair
. Another of his portraits of her in 1885,
Suzanne Valadon
, is of her head and shoulders in profile. Valadon frequented the bars and taverns of Paris along with her fellow painters, and Toulouse-Lautrec painted her as the subject of
The Hangover
.
Valadon painted still lifes, portraits, flowers, and
landscape
Landscape art
Landscape art is a term that covers the depiction of natural scenery such as mountains, valleys, trees, rivers, and forests, and especially art where the main subject is a wide view, with its elements arranged into a coherent composition. In other works landscape backgrounds for figures can still...
s that are noted for their strong composition and vibrant colors. She was, however, best known for her candid female nudes. A perfectionist, she worked on some of her oil paintings for up to 13 years before showing them. She also worked in
pastel
Pastel
Pastel is an art medium in the form of a stick, consisting of pure powdered pigment and a binder. The pigments used in pastels are the same as those used to produce all colored art media, including oil paints; the binder is of a neutral hue and low saturation....
. Her first exhibitions, held in the early 1890s, consisted mostly of portraits.
Today, some of her works may be seen at the
Centre Georges Pompidou
Centre Georges Pompidou
Centre Georges Pompidou is a complex in the Beaubourg area of the 4th arrondissement of Paris, near Les Halles, rue Montorgueil and the Marais...
in Paris, the
Museum of Grenoble
Museum of Grenoble
The Museum of Grenoble is a city museum of Fine Arts and antiques in the city of Grenoble in France.Located on the left bank of the Isère, place Lavalette, it is known both for its collections of ancient art for its collections of modern and contemporary art..-History:The Museum of Grenoble was...
, and at the
Metropolitan Museum of Art
Metropolitan Museum of Art
The Metropolitan Museum of Art is a renowned art museum in New York City. Its permanent collection contains more than two million works, divided into nineteen curatorial departments. The main building, located on the eastern edge of Central Park along Manhattan's Museum Mile, is one of the...
in New York.
Personal life
A free spirit, she wore a
corsage
Corsage
Corsage refers to a bouquet of flowers worn on a woman's dress or worn around her wrist.* Corsages are often worn by the mothers and grandmothers of the bride and groom at a wedding ceremony in some countries....
of carrots, kept a goat at her studio to "eat up her bad drawings", and fed
caviar
Caviar
Caviar, sometimes called black caviar, is a luxury delicacy, consisting of processed, salted, non-fertilized sturgeon roe. The roe can be "fresh" or pasteurized, the latter having much less culinary and economic value....
(rather than meat) to her "good Catholic" cats on Fridays.
Despite her financial success and the recognition gained for her artistic achievements, her fame was eclipsed by that of her son. She gave birth to the boy in 1883 and, never divulging the identity of his father, named him Maurice Valadon. Her son later adopted the paternal family name of a close friend of his mother, Miguel Utrillo y Morlius, who owned the
Auberge du Clou
, a tavern frequented by the residents, shop owners, workers, and artists of Montmartre. The tavern had a
shadow theatre
Shadow Theatre
The Shadow Theatre is an Edmonton-based theatre company born of the Edmonton International Fringe Festival in 1990.-History:Shadow Theatre was incorporated in 1992, operating under the governance of a volunteer Board of Directors...
in its basement and Miguel also created the scenery, ombres, and stage
setting
Set construction
Set construction is the process by which a set designer works in collaboration with the director of a production to create the set for a theatrical, film or television production...
s for the productions. After being taught to paint and mentored by his mother, as
Maurice Utrillo
Maurice Utrillo
Maurice Utrillo, , born Maurice Valadon, was a French painter who specialized in cityscapes. Born in the Montmartre quarter of Paris, France, Utrillo is one of the few famous painters of Montmartre who were born there....
, he became one of Montmartre's best-known artists.
Among her works is a portrait of the composer
Erik Satie
Erik Satie
Éric Alfred Leslie Satie was a French composer and pianist. Satie was a colourful figure in the early 20th century Parisian avant-garde...
, with whom she had a six-month affair in 1893. A smitten Satie proposed marriage after their first night together. For Satie, the intimacy of his relationship with Valadon would be the only one of its kind in his life, leaving him at its end, he said, with "nothing but an icy loneliness that fills the head with emptiness and the heart with sadness."
Valadon's marriage to stockbroker Paul Moussis in 1896 ended when, in 1909, she left him for a painter half her age, André Utter. She married Utter in 1914, but the marriage did not last either.
Suzanne Valadon died on 7 April 1938 and was buried in the
Cimetière de Saint-Ouen
Cimetière de Saint-Ouen
The Saint-Ouen Cemetery is located just north of Montmartre at Saint-Ouen, near Paris, France. The cemetery consists of two parts. The first, located on Rue Adrien Lesesne opened in 1860 and the second at 2 Avenue Michelet was opened on September 1, 1872....
in Paris. Among those in attendance at her funeral were her friends and colleagues
André Derain
André Derain
André Derain was a French artist, painter, sculptor and co-founder of Fauvism with Henri Matisse.-Early years:...
,
Pablo Picasso
Pablo Picasso
Pablo Diego José Francisco de Paula Juan Nepomuceno María de los Remedios Cipriano de la Santísima Trinidad Ruiz y Picasso known as Pablo Ruiz Picasso was a Spanish expatriate painter, sculptor, printmaker, ceramicist, and stage designer, one of the greatest and most influential artists of the...
, and
Georges Braque
Georges Braque
Georges Braque[p] was a major 20th century French painter and sculptor who, along with Pablo Picasso, developed the art style known as Cubism.-Early Life:...
.
Novels and plays
A novel based on her life by Elaine Todd Koren was published in 2001, entitled
Suzanne: of Love and Art
.
An earlier novel by Sarah Baylis, entitled
Utrillo's Mother
, was published first in England and later in the United States.
Timberlake Wertenbaker
Timberlake Wertenbaker
- Biography :Wertenbaker grew up in the Basque Country of France near Saint-Jean-de-Luz. She attended schools in Europe and the US before settling permanently in London...
's play "
The Line
The Line (play)
The Line is a 2009 play by British dramatist Timberlake Wertenbaker about the relationship between Edgar Degas and Suzanne Valadon. Set in " the intimate, if quarrelsome world of Montmartre", at the play's heart are " a leading artist, a protegee and a clash between traditions, lifestyles and...
" (2009) traces the relationship between Valadon and Degas.
Honors
Both an asteroid (
6937 Valadon
6937 Valadon
6937 Valadon is a main-belt asteroid discovered on September 29, 1973 by Cornelis Johannes van Houten, Ingrid van Houten-Groeneveld and Tom Gehrels at Palomar Observatory.- External links :*...
) and a
crater on Venus
are named in her honor.
External links