 Stephen Goldin
Stephen Charles Goldin
is an
American
United States
The United States of America is a federal constitutional republic comprising fifty states and a federal district...
science fiction
Science fiction
Science fiction is a genre of fiction dealing with imaginary but more or less plausible content such as future settings, futuristic science and technology, space travel, aliens, and paranormal abilities...
and
fantasy
Fantasy
Fantasy is a genre of fiction that commonly uses magic and other supernatural phenomena as a primary element of plot, theme, or setting. Many works within the genre take place in imaginary worlds where magic is common...
author.
Biography
Goldin was born in in Philadelphia,
Pennsylvania
Pennsylvania
The Commonwealth of Pennsylvania is a U.S. state that is located in the Northeastern and Mid-Atlantic regions of the United States. The state borders Delaware and Maryland to the south, West Virginia to the southwest, Ohio to the west, New York and Ontario, Canada, to the north, and New Jersey to...
.
A graduate of UCLA with a Bachelor's degree in Astronomy, he worked for the U.S. Navy as a civilian space scientist before becoming a full-time writer. He has also worked as a writer and editor for the
San Francisco Ball
, designed and written manuals for a number of computer games, and co-taught a writing class at the California State University at Northridge. A member of the
Science Fiction and Fantasy Writers of America
Science Fiction and Fantasy Writers of America
Science Fiction and Fantasy Writers of America, or SFWA is a nonprofit association of professional science fiction and fantasy writers. It was founded in 1965 by Damon Knight under the name Science Fiction Writers of America, Inc. and it retains the acronym SFWA after a very brief use of the SFFWA...
(SFWA), he has served as editor of its
SFWA Bulletin
and held the position of the association's western regional director.
Goldin has been married twice, first to
Kathleen Sky
Kathleen Sky
Kathleen Sky is the pen name of Kathleen Mckinney Goldin, an American science fiction and fantasy author. From 1972 to 1982 she was married to fellow author and collaborator Stephen Goldin...
(from 1972–1982) and later to Mary Mason (from 1987 to present). He has collaborated with both in his fiction. Goldin lives in
California
California
California is a state located on the West Coast of the United States. It is by far the most populous U.S. state, and the third-largest by land area...
.
Goldin's "The Last Ghost" was a 1972 nominee for the
Nebula Award
Nebula Award
The Nebula Award is given each year by the Science Fiction and Fantasy Writers of America , for the best science fiction/fantasy fiction published in the United States during the previous year...
for best
short story
Short story
A short story is a work of fiction that is usually written in prose, often in narrative format. This format tends to be more pointed than longer works of fiction, such as novellas and novels. Short story definitions based on length differ somewhat, even among professional writers, in part because...
.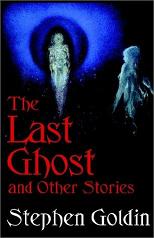 Series
Family d'Alembert

Family D'Alembert

The Family D'Alembert series is a set of science fiction novels by Stephen Goldin, the first of which was expanded from a novella by E. E. "Doc" Smith.-Plot:...


(based on a novella by E.E. "Doc" Smith

E. E. Smith

Edward Elmer Smith, Ph.D., also, E. E. Smith, E. E. "Doc" Smith, Doc Smith, "Skylark" Smith, and Ted was a food engineer and early science fiction author who wrote the Lensman series and the Skylark series, among others...


):
Imperial Stars

Imperial Stars

The Imperial Stars is a science fiction novel by Stephen Goldin expanded from a novella by E. E. "Doc" Smith. It is the first in a series of ten Family D'Alembert novels set in a future where humankind has expanded to the stars but reverted to an old-style feudal system of government in an advanced...


(with E.E. "Doc" Smith, 1976)
Stranglers' Moon

Stranglers' Moon

Stranglers' Moon is a 1976 science fiction novel written by Stephen Goldin, the second book in the Family D'Alembert series, the first of which was expanded by Goldin from a novella by E.E. "Doc" Smith.-Plot introduction:...


(1976)
The Clockwork Traitor (1977)
Getaway World (1977)
Appointment at Bloodstar (1978)
The Purity Plot (1978)
Planet of Treachery (1982)
Eclipsing Binaries (1983)
The Omicron Invasion (1984)
Revolt of the Galaxy (1985)
The Parsina Saga

Shrine of the Desert Mage (1988)
The Storyteller and the Jann (1988)
Crystals of Air and Water (1989)
Treachery of the Demon King (2002)
The Rehumanization of Jade Darcy (with Mary Mason):

Jade Darcy and the Affair of Honor (1988)
Jade Darcy and the Zen Pirates (1990)
The Mindsaga

Mindflight (1978)
Mindsearch (2002 - ebook only)
Novels
Herds (1975)
Caravan (1975)
Scavenger Hunt (1976)
Finish Line (1976)
Assault on the Gods (1977)
Trek to Madworld

Trek to Madworld

Trek to Madworld is one of the original Star Trek novels set in the universe of the original Star Trek television series. It was authored by Nebula Award finalist Stephen Goldin, with introduction by Star Trek author David Gerrold...


(Star Trek

Star Trek

Star Trek is an American science fiction entertainment franchise created by Gene Roddenberry. The core of Star Trek is its six television series: The Original Series, The Animated Series, The Next Generation, Deep Space Nine, Voyager, and Enterprise...


) (1979)
The Eternity Brigade (1980)
A World Called Solitude (1981)
And Not Make Dreams Your Master (1981)
Crossroads of the Galaxy (1999)
Polly! (2008)
Collections
The Last Ghost and Other Stories (collection) (1999)
Star Rooks (2004 - ebook only) (with Kathleen Sky)
Alien Murders (2009)
Angel in Black (2010)
Anthologies (editor)
Protostars

Protostars

Protostars is an anthology of science fiction short stories edited by David Gerrold and Stephen Goldin. It was first published in paperback by Ballantine Books in October 1971, and has been reprinted a number of times since....


(1971) (with David Gerrold

David Gerrold

Jerrold David Friedman , better known by his pen name David Gerrold, is an American science fiction author who started his career in 1966 while a college student by submitting an unsolicited story outline for the television series Star Trek. He was invited to submit several premises, and the one...


)
The Alien Condition (1973)
Nonfiction
An Hour with Kathleen Sky (cassette audiobook) (1979) (with Kathleen Sky)
The Business of Being a Writer (1982) (with Kathleen Sky)
External links