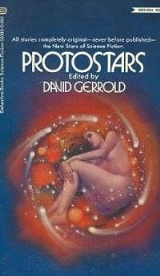 Protostars
Protostars
is an
anthology
Anthology
An anthology is a collection of literary works chosen by the compiler. It may be a collection of poems, short stories, plays, songs, or excerpts...
of
science fiction
Science fiction
Science fiction is a genre of fiction dealing with imaginary but more or less plausible content such as future settings, futuristic science and technology, space travel, aliens, and paranormal abilities...
short stories edited by
David Gerrold
David Gerrold
Jerrold David Friedman , better known by his pen name David Gerrold, is an American science fiction author who started his career in 1966 while a college student by submitting an unsolicited story outline for the television series Star Trek. He was invited to submit several premises, and the one...
and
Stephen Goldin
Stephen Goldin
Stephen Charles Goldin is an American science fiction and fantasy author.-Biography:Goldin was born in in Philadelphia, Pennsylvania....
. It was first published in paperback by
Ballantine Books
Ballantine Books
Ballantine Books is a major book publisher located in the United States, founded in 1952 by Ian Ballantine with his wife, Betty Ballantine. It was acquired by Random House in 1973, which in turn was acquired by Bertelsmann AG in 1998 and remains part of that company today. Ballantine's logo is a...
in October 1971, and has been reprinted a number of times since.
The book collects sixteen novelettes and short stories by various science fiction authors, including a few by the editors, with an introduction by Gerrold.
Contents
"A Sort of Introduction" (David Gerrold

David Gerrold

Jerrold David Friedman , better known by his pen name David Gerrold, is an American science fiction author who started his career in 1966 while a college student by submitting an unsolicited story outline for the television series Star Trek. He was invited to submit several premises, and the one...


)
"What Makes a Cage, Jamie Knows" (Scott Bradfield

Scott Bradfield

Scott Michael Bradfield is an American essayist, critic and fiction writer who resides in London, England. He has taught at the University of California and the University of Connecticut and has reviewed for The Times Literary Supplement, Elle, The Observer, Vice and The Independent...


)
"I'll Be Waiting for You When the Swimming Pool is Empty" (James Tiptree, Jr.)
"In a Sky of Daemons" (L. Yep

Laurence Yep

-Background:Chinese-American, Yep was born in San Francisco, California to Yep Gim Lew and Franche. His older brother, Thomas named him after studying a particular saint in a multicultural neighborhood that consisted of mostly African Americans. Growing up, he often felt torn between both...


)
"The Last Ghost" (Stephen Goldin

Stephen Goldin

Stephen Charles Goldin is an American science fiction and fantasy author.-Biography:Goldin was born in in Philadelphia, Pennsylvania....


)
"Afternoon with a Dead Bus" (David Gerrold

David Gerrold

Jerrold David Friedman , better known by his pen name David Gerrold, is an American science fiction author who started his career in 1966 while a college student by submitting an unsolicited story outline for the television series Star Trek. He was invited to submit several premises, and the one...


)
"Eyes of Onyx" (Edward Bryant

Edward Bryant

Edward Winslow Bryant Jr. is a science fiction and horror writer sometimes associated with the Dangerous Visions series of anthologies that bolstered The New Wave....


)
"The World Where Wishes Worked" (Stephen Goldin

Stephen Goldin

Stephen Charles Goldin is an American science fiction and fantasy author.-Biography:Goldin was born in in Philadelphia, Pennsylvania....


)
"Cold, the Fire of the Phoenix" (Leo P. Kelley)
"Oasis" (Pamela Sargent

Pamela Sargent

Pamela Sargent is an American, feminist, science fiction author, and editor. She has an MA in classical philosophy and has won a Nebula Award. She wrote a series concerning the terraforming of Venus that is sometimes compared to Kim Stanley Robinson's Mars trilogy, but predates it...


)
"Holdholtzer's Box" (David R. Bunch

David R. Bunch

David Roosevelt Bunch was an American writer of short stories and poetry. He worked mainly in the genres of science fiction, satire, surrealism, and literary fiction. Although prolific and critically acclaimed, Bunch remained obscure throughout his career...


)
"The Five-Dimensional Sugar Cube" (Roger Deeley)
"And Watch the Smog Roll In..." (Barry Weissman)
"Chances Are" (Alice Laurance)
" The Naked and the Unashamed" (Robert E. Margroff)
" My Country, Right or Wrong" (Andrew J. Offutt

Andrew J. Offutt

Andrew Jefferson Offutt is an American science fiction and fantasy author. He has written as Andrew J. Offutt, A. J. Offutt, and Andy Offutt. His normal byline, andrew j. offutt, has all his name in lower-case letters.-Life and family:Offutt has been married for over 50 years to Jodie McCabe...


)
"Side Effect" (Pg Wyal)