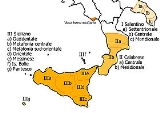 Sicilian language
Sicilian is a Romance language. Its dialects make up the Extreme-Southern Italian language group, which are spoken on the island of
Sicily
Sicily
Sicily is a region of Italy, and is the largest island in the Mediterranean Sea. Along with the surrounding minor islands, it constitutes an autonomous region of Italy, the Regione Autonoma Siciliana Sicily has a rich and unique culture, especially with regard to the arts, music, literature,...
and its satellite islands; in southern and central
Calabria
Calabria
Calabria , in antiquity known as Bruttium, is a region in southern Italy, south of Naples, located at the "toe" of the Italian Peninsula. The capital city of Calabria is Catanzaro....
(where it is called Southern Calabro); in the southern parts of
Apulia
Apulia
Apulia is a region in Southern Italy bordering the Adriatic Sea in the east, the Ionian Sea to the southeast, and the Strait of Òtranto and Gulf of Taranto in the south. Its most southern portion, known as Salento peninsula, forms a high heel on the "boot" of Italy. The region comprises , and...
, the
Salento
Salento
Salento is the south-eastern extremity of the Apulia region of Italy. It is a sub-peninsula of the main Italian Peninsula, sometimes described as the "heel" of the Italian "boot"...
(where it is known as Salentino); and
Campania
Campania
Campania is a region in southern Italy. The region has a population of around 5.8 million people, making it the second-most-populous region of Italy; its total area of 13,590 km² makes it the most densely populated region in the country...
, on the Italian mainland, where it is called Cilentano (Gordon, 2005).
Ethnologue
Ethnologue
Ethnologue: Languages of the World is a web and print publication of SIL International , a Christian linguistic service organization, which studies lesser-known languages, to provide the speakers with Bibles in their native language and support their efforts in language development.The Ethnologue...
(see below for more detail) describes Sicilian as being "distinct enough from
Standard Italian
Italian language
Italian is a Romance language spoken mainly in Europe: Italy, Switzerland, San Marino, Vatican City, by minorities in Malta, Monaco, Croatia, Slovenia, France, Libya, Eritrea, and Somalia, and by immigrant communities in the Americas and Australia...
to be considered a separate language" (Gordon).