 Poet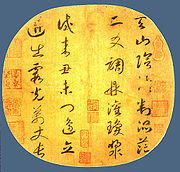 A
poet
is a person who writes
poetry
Poetry
Poetry is a form of literary art in which language is used for its aesthetic and evocative qualities in addition to, or in lieu of, its apparent meaning...
. A poet's work can be literal, meaning that his work is derived from a specific event, or metaphorical, meaning that his work can take on many meanings and forms. Poets have existed since antiquity, in nearly all languages, and have produced works that vary greatly in different cultures and time periods. Throughout each civilization and language, poets have used various styles that have changed through the course of literary history, resulting in a history of poets as diverse as the literature they have produced.
The English term "poet" is derived from the Latin first-declension masculine noun "poeta, poetae" (literally meaning "poet, of the poet").
French
French people
The French are a nation that share a common French culture and speak the French language as a mother tongue. Historically, the French population are descended from peoples of Celtic, Latin and Germanic origin, and are today a mixture of several ethnic groups...
poet
Arthur Rimbaud
Arthur Rimbaud
Jean Nicolas Arthur Rimbaud was a French poet. Born in Charleville, Ardennes, he produced his best known works while still in his late teens—Victor Hugo described him at the time as "an infant Shakespeare"—and he gave up creative writing altogether before the age of 21. As part of the decadent...
summarized the "poet" by writing,
A poet makes himself a visionary through a long, boundless, and systematized disorganization of all the senses. All forms of love, of suffering, of madness; he searches himself, he exhausts within himself all poisons, and preserves their quintessences. Unspeakable torment, where he will need the greatest faith, a superhuman strength, where he becomes all men: the great invalid, the great criminal, the great accursed—and the Supreme Scientist! For he attains the unknown! Because he has cultivated his soul, already rich, more than anyone! He attains the unknown, and, if demented, he finally loses the understanding of his visions, he will at least have seen them! So what if he is destroyed in his ecstatic flight through things unheard of, unnameable: other horrible workers will come; they will begin at the horizons where the first one has fallen!
Although that is only one opinion of many on a poet's definition.
William Wordsworth
William Wordsworth
William Wordsworth was a major English Romantic poet who, with Samuel Taylor Coleridge, helped to launch the Romantic Age in English literature with the 1798 joint publication Lyrical Ballads....
once described the poet's task as
make

A present joy the matter of a song,

Pour forth that day my soul in measured strains

That would not be forgotten and are here

Recorded
(
The Prelude
The Prelude
The Prelude; or, Growth of a Poet's Mind is an autobiographical, "philosophical" poem in blank verse by the English poet William Wordsworth. Wordsworth wrote the first version of the poem when he was 28, and worked over the rest of it for his long life without publishing it...
Book 1)
Marianne Moore
Marianne Moore
Marianne Moore was an American Modernist poet and writer noted for her irony and wit.- Life :Moore was born in Kirkwood, Missouri, in the manse of the Presbyterian church where her maternal grandfather, John Riddle Warner, served as pastor. She was the daughter of mechanical engineer and inventor...
famously described the poet's job as creating 'imaginary gardens with real toads in them'.(Poetry)
Many poets such as
Virgil
Virgil
Publius Vergilius Maro, usually called Virgil or Vergil in English , was an ancient Roman poet of the Augustan period. He is known for three major works of Latin literature, the Eclogues , the Georgics, and the epic Aeneid...
in the
Aeneid
Aeneid
The Aeneid is a Latin epic poem, written by Virgil between 29 and 19 BC, that tells the legendary story of Aeneas, a Trojan who travelled to Italy, where he became the ancestor of the Romans. It is composed of roughly 10,000 lines in dactylic hexameter...
and
John Milton
John Milton
John Milton was an English poet, polemicist, a scholarly man of letters, and a civil servant for the Commonwealth of England under Oliver Cromwell...
in
Paradise Lost
Paradise Lost
Paradise Lost is an epic poem in blank verse by the 17th-century English poet John Milton. It was originally published in 1667 in ten books, with a total of over ten thousand individual lines of verse...
invoke the aid of a
Muse
Muse
The Muses in Greek mythology, poetry, and literature, are the goddesses who inspire the creation of literature and the arts. They were considered the source of the knowledge, related orally for centuries in the ancient culture, that was contained in poetic lyrics and myths...
to help them in their tasks.
See also