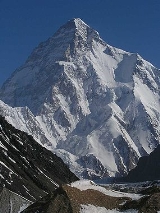 K2
K2
is the second-
highest
mountain on Earth, after
Mount Everest
Mount Everest
Mount Everest is the world's highest mountain, with a peak at above sea level. It is located in the Mahalangur section of the Himalayas. The international boundary runs across the precise summit point...
. With a peak elevation of 28251 feet (8,610.9 m), K2 is part of the
Karakoram
Karakoram
The Karakoram, or Karakorum , is a large mountain range spanning the borders between Pakistan, India and China, located in the regions of Gilgit-Baltistan , Ladakh , and Xinjiang region,...
Range
Mountain range
A mountain range is a single, large mass consisting of a succession of mountains or narrowly spaced mountain ridges, with or without peaks, closely related in position, direction, formation, and age; a component part of a mountain system or of a mountain chain...
, and is located on the border between
Baltistan
Baltistan
Baltistan , also known as بلتیول བལིུལ་ in the Balti language, is a region in northern Pakistan which forms Gilgit-Baltistan, bordering the Xinjiang Autonomous Region of China. In addition, a part of Baltistan also falls into Jammu and Kashmir of India. It is situated in the Karakoram mountains...
, in Gilgit-Baltistan of
Pakistan-administered Kashmir
Pakistan-administered Kashmir
Azad Kashmir borders the Pakistani provinces of Punjab and Khyber Pakhtunkhwa to the west, the Wakhan Corridor of Afghanistan to the north west, the Xinjiang Uyghur Autonomous Region of People's Republic of China to the north and the Indian-administered state of Jammu and Kashmir, to the east.A...
and the
Taxkorgan Tajik Autonomous County
Taxkorgan Tajik Autonomous County
Tashkurgan Tajik Autonomous County is one of the counties of Kashgar Prefecture in western Xinjiang.- Geography :Tashkurgan County is located in the eastern part of the Pamir Plateau, where the Kunlun, Kara Kunlun, Hindukush and Tian Shan mountains come together, at the borders with Afghanistan ,...
of
Xinjiang
Xinjiang
Xinjiang is an autonomous region of the People's Republic of China. It is the largest Chinese administrative division and spans over 1.6 million km2...
, China. It is more hazardous to reach K2 from the Chinese side; thus, it is mostly climbed from the Pakistani side.
K2 is known as the
Savage Mountain
due to the difficulty of ascent and the second-highest fatality rate among the "eight thousanders" for those who climb it.