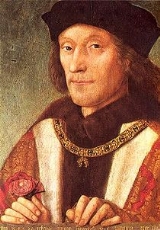 Henry VII of England
Henry VII
was
King of England
Kingdom of England
The Kingdom of England was, from 927 to 1707, a sovereign state to the northwest of continental Europe. At its height, the Kingdom of England spanned the southern two-thirds of the island of Great Britain and several smaller outlying islands; what today comprises the legal jurisdiction of England...
and
Lord of Ireland
Lordship of Ireland
The Lordship of Ireland refers to that part of Ireland that was under the rule of the king of England, styled Lord of Ireland, between 1177 and 1541. It was created in the wake of the Norman invasion of Ireland in 1169–71 and was succeeded by the Kingdom of Ireland...
from his seizing the crown on 22 August 1485 until his death on 21 April 1509, as the first monarch of the House of Tudor.
Henry won the throne when he defeated
Richard III
Richard III of England
Richard III was King of England for two years, from 1483 until his death in 1485 during the Battle of Bosworth Field. He was the last king of the House of York and the last of the Plantagenet dynasty...
at the
Battle of Bosworth Field
Battle of Bosworth Field
The Battle of Bosworth Field was the penultimate battle of the Wars of the Roses, the civil war between the House of Lancaster and the House of York that raged across England in the latter half of the 15th century. Fought on 22 August 1485, the battle was won by the Lancastrians...
. He was the last king of England to win his throne on the field of battle. He was successful in restoring the power and stability of the English monarchy after the political upheavals of the
Wars of the Roses
Wars of the Roses
The Wars of the Roses were a series of dynastic civil wars for the throne of England fought between supporters of two rival branches of the royal House of Plantagenet: the houses of Lancaster and York...
.
1485 King Henry VII of England is crowned.
1487 The ten-year-old Lambert Simnel is crowned in Christ Church Cathedral in Dublin, Ireland with the name of Edward VI in a bid to threaten King Henry VII's reign.
1492 Peace of Etaples between Henry VII and Charles VIII.
1496 King Henry VII of England issues letters patent to John Cabot and his sons, authorising them to explore unknown lands.
1503 King James IV of Scotland marries Margaret Tudor, daughter of King Henry VII of England at Holyrood Abbey, Edinburgh, Scotland.
1509 Henry VIII ascends the throne of England on the death of his father, Henry VII.