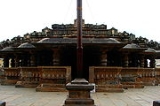 Harihar
Harihar
is a city located in
Davanagere District
Davanagere district
Davanagere District , also known as Devangere District, is an administrative district of Karnataka state in southern India. The city of Davanagere is the district headquarters. It had a population of 1,790,952 of which 30.32% was urban as of 2001.This district was carved out of Chitradurga district...
in the Indian state of
Karnataka
Karnataka
Karnataka , the land of the Kannadigas, is a state in South West India. It was created on 1 November 1956, with the passing of the States Reorganisation Act and this day is annually celebrated as Karnataka Rajyotsava...
. Harihar also spelled Hari-hara, in Hinduism, a syncretic deity, combining the two major gods, Vishnu (Hari) and Siva (Hara). Images of Harihara (also known as Sambhu-Visnu and Sankara-Narayana, variants of the names of the two gods) began to appear in the classical period after sectarian movements, which elevated one god as supreme over the others, had waned sufficiently for efforts at compromise to be attempted..The region of Harihar had been under the control of the Hoysalas from 11th to 13th Century AD.
Harihar is famous for a Harihareshwara temple, which is also known as "Dakshina Kashi".
Harihara is situated on the banks of the
Tungabhadra River
Tungabhadra River
The Tungabhadra River is a sacred river in southern India that flows through the state of Karnataka to Andhra Pradesh, where it serves as the chief tributary of the Krishna River...
, 275 kilometres north of
Bangalore
Bangalore
Bengaluru , formerly called Bengaluru is the capital of the Indian state of Karnataka. Bangalore is nicknamed the Garden City and was once called a pensioner's paradise. Located on the Deccan Plateau in the south-eastern part of Karnataka, Bangalore is India's third most populous city and...
. The neighboring city Ranebennur is 22 km north west of Harihar across the river Tungabhadra. Harihar is connected by road and railway, and is located on national Highway 4 (
Puna
Puna
Puna may refer to:* Puna grassland, a type of grassland in the central part of the high Andes* Puna , the king of Hiti-marama or of Vavau in the Tuamotu legend of Rata* Puna , a type of wind in the Andes...
–
Bangalore
Bangalore
Bengaluru , formerly called Bengaluru is the capital of the Indian state of Karnataka. Bangalore is nicknamed the Garden City and was once called a pensioner's paradise. Located on the Deccan Plateau in the south-eastern part of Karnataka, Bangalore is India's third most populous city and...
). It has a very pleasant climate through the year.
History
There is famous temple built in 12th century during Hoysala's time called Harihareshwara temple (Guharanya Kshetra), from which the city derives its name, which is also known as "Dakshina Kashi".
The god
Harihareshwara
Harihara
Harihara is the name of a combined deity form of both Vishnu and Shiva from the Hindu tradition. Also known as Shankaranarayana , Harihara is thus worshipped by both Vaishnavites and Shaivities as a form of the Supreme God, as well as being a figure of worship for other Hindu traditions in general...
is a combination of god Shiva and Vishnu. There is a story behind avatara of this god. In ancient days this place was known as 'Guharanya'. A dense jungle and habitat of a demon Guhasura. He had a boon that no human or Rakshasa or god can kill him. And he started harassing people around this place. Then Vishnu and Shiva came together in a new avatara called Hari – Hara (Harihara) and killed demon Guhasura. That is how this place has got the name Harihar. Every year the Car festival is celebrated. Harihar also has a famous Ragavendra Mutt located on the banks of Tungabandra.
The harihar serves as a major industrial base also. It is served by the Kirloskar industry and at present Aditya Birla, Grasim, Synthite, Shamanur Sugar's and more. Kirloskar Engineering company has closed down, resulting in a loss of nearly 15,000 jobs. The major lifeline of this small town is the Tungabhadra river, which continues to be exploited and polluted as a result of heavy industrialization.
Attractions
Harihar is popular for temples.
Harihareshwara Temple
Sree Parvathi Temple at temple premises.
Omkar Math: Sri Math has its building or boundary to the south of Sri Harihareshwara Temple on the banks of the holy river Tungabhadra. By the influence of Sri. Adi Shankar on the universal thought of Advaita, Sri Shivananda Teertha established Omkar Math with the co-operation of local devotes on 1941 march 28 where in Sri Sharadambha,Sri Dattatreya and Sri Adi Shankara on the idols of Sri Math. Swami Sri Shivananda Teertha trust is being established to keep the activities of Sri Math alive and jubilant. For more information visit on www.omkarmath.org
Banashankari Temple on the Banks of Tungabhadra.
Kannyaka Parameshwari Temple in Temple Street.
Jai Hanuman Temple opp Old Shoba Talkies.
Rama Mandhira in Rajaram Colony and Narayana Ashrama on harihara-Hosapete highway.
Raghavendra Swamy temple (popularly known as Raayara Matha)
Ayyappa temple other side of the river.
Rajanahalli Hanumappa temple (Hanuman temple in Rajanahalli, around 6 km from Harihar on bypass highway)
Graamadevata temple
Maargadha Dhurgamma temple (towards ranibennur on NH4, around 3 km)
Kumaranahalli Sri Ranganatha temple and Sri Ranganatha Ashram built by Swamy Shankaralinga Bhagavan (towards Malebennur, around 20 km)
Mother Mary's Church
Hazrat naadband shaawali baba darga
Ranibennur Blackbuck Sanctuary

Ranibennur Blackbuck Sanctuary

Ranebennur Blackbuck Sanctuary was declared as a sanctuary mainly to protect blackbucks. It comprises two unconnected portions, an eastern and a western bit. The sanctuary has a core zone of 14.87 km² and a buffer-cum tourism zone of 104.13 km²...


around 20 km
Education
Harihar has an average literacy rate of 73%, higher than the national average of 59.5%: male literacy is 78%, and female literacy is 69%. Education has mainly been dominated by the Kirloskars group of schools, and has been source for quality outgoing students, although new ones are being added up.
Geography
Harihar is located at 14.52°N 75.8°E. It has an average elevation of 540 metres (1771 feet).
Urban population, 1.5 Lakhs (2010)
Num of properties, 17,098
City area, 7.8 km²
Length of roads, 11.05 km
Total Water Supply , 32,00,000 LD
Per Capita Water Supply, 40 LPCD
Summer temp, 30°C-40°C
Winter temp, 17°C-20°C
Demographics
India
census
Census
A census is the procedure of systematically acquiring and recording information about the members of a given population. It is a regularly occurring and official count of a particular population. The term is used mostly in connection with national population and housing censuses; other common...
, Harihar had a population of 75,042. Males constitute 51% of the population and females 49%. In Harihar, 11% of the population is under 6 years of age.
Connectivity
Situated exactly in the middle of Karnataka, Harihar has a good connectivity from South and North.
BY air - The nearest airport is at Hubli 120 km from Harihar. From there one can take flights to Bangalore and Mumbai. The nearest international airport is 275 km away in Bangalore, from where one can take flights for most of the important cities in India.
BY RAIL - Harihar is connected with most of the metros like Mumbai, Bangalore and Chennai through regular trains. Harihar is a new railway junction which connects Hospet and Bellary via kottur. It will operate from March 2011.
By road : There is a good network of roads that connects Harihar to other important cities of the region.
Buses : Being on National Highway NH4, the city enjoys a good connectedness. It is a 2.5 hours drive from Hubli (131 km) and 5 hours drive from Bangalore (278 km). Most of the buses which ply from/to North Karnataka to/from South Karnataka (if not all) go via this place. The town is 14 km from Davanagere city, was earlier a part of Chitradurga district (78 km). This town is also near to Hampi, a historical place and Tungabhadra Dam, Hospet. Most of the buses plying from North Karnataka to Dharmasthala, Shimoga, Mysore go via Harihar. Other private travels include:
Mahesh Travels
Vijayanand Roadlines (VRL)
Trains : Good train facility, again connecting Hubli - Bangalore route.
Intercity express
"Rani Chennamma Express" and
Janashatabdi Express
are the major trains which people there rely upon and commonly commute in. Other trains include
Hubli-Bangalore Fast Passenger
which is by all means the convenient train to go to Bangalore (departs from Harihar at 9:30 pm, arrives at Bangalore at 6:10a m) or to come to Harihar (departs from Bangalore at 10:00 pm and arrives at Harihar at 5:30 am). Another train which has come to light recently is the
Dharwar-Mysore express
train which departs from Harihar at 10:45 pm.
Train# 2079, 2080 : Janashatabdi express
Train# 583 : UBL (Hubli Junction) to SBC (Bangalore city) fast passenger
Train# 586 : SBC (Bangalore city) to UBL (Hubli Junction) fast passenger
Intercity express Dharwar to Bangalore, Bangalore to Dharwar.
Dharwar Mysore Express
Chalukya Express Bangalore to Mumbai and back
Sharavathi Express Mysore to Mumbai and back
Now another railway line is connecting to Hospet via Kottur. [In progress] Then Harihar will directly connect with Hospet, Bellary and Hyderabad.
Nearest airport:
Nearest airport to Harihar is the Hubli Airport, which is 131 km from Harihar and one more mini airport is in Aditya Birla Company Harihar.
External links