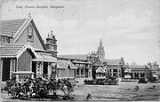 Bangalore
Bengaluru
ˈbæŋɡəlɔər, bæŋɡəˈlɔər, formerly called
Bengaluru
( ˈbeŋɡəɭuːru) is the capital of the
India
India
India , officially the Republic of India , is a country in South Asia. It is the seventh-largest country by geographical area, the second-most populous country with over 1.2 billion people, and the most populous democracy in the world...
n
state
States and territories of India
India is a federal union of states comprising twenty-eight states and seven union territories. The states and territories are further subdivided into districts and so on.-List of states and territories:...
of
Karnataka
Karnataka
Karnataka , the land of the Kannadigas, is a state in South West India. It was created on 1 November 1956, with the passing of the States Reorganisation Act and this day is annually celebrated as Karnataka Rajyotsava...
. Bangalore is nicknamed the Garden City and was once called a pensioner's paradise. Located on the
Deccan Plateau
Deccan Plateau
The Deccan Plateau is a large plateau in India, making up the majority of the southern part of the country. It rises a hundred meters high in the north, rising further to more than a kilometers high in the south, forming a raised triangle nested within the familiar downward-pointing triangle of...
in the south-eastern part of Karnataka, Bangalore is India's
third most populous city
and
fifth-most populous urban agglomeration
.
Bangalore is a brand the world identifies India with. It is also the single biggest reason why India has become such a hot investment destination. ~ :w:Manmohan Singh|Manmohan Singh, Prime Minister of India. Union Budget 2005-2006, 12 Feb. 2006