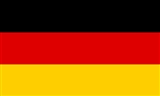 Germany
Germany
, officially the
Federal Republic of Germany
, is a
federal
Federation
A federation , also known as a federal state, is a type of sovereign state characterized by a union of partially self-governing states or regions united by a central government...
parliamentary republic
Parliamentary republic
A parliamentary republic or parliamentary constitutional republic is a type of republic which operates under a parliamentary system of government - meaning a system with no clear-cut separation of powers between the executive and legislative branches. There are a number of variations of...
in
Europe
Europe
Europe is, by convention, one of the world's seven continents. Comprising the westernmost peninsula of Eurasia, Europe is generally 'divided' from Asia to its east by the watershed divides of the Ural and Caucasus Mountains, the Ural River, the Caspian and Black Seas, and the waterways connecting...
. The country consists of 16 states while the
capital
Capital City
Capital City was a television show produced by Euston Films which focused on the lives of investment bankers in London living and working on the corporate trading floor for the fictional international bank Shane-Longman....
and
largest city
is
Berlin
Berlin
Berlin is the capital city of Germany and is one of the 16 states of Germany. With a population of 3.45 million people, Berlin is Germany's largest city. It is the second most populous city proper and the seventh most populous urban area in the European Union...
. Germany covers an area of 357,021 km
2
and has a largely temperate seasonal climate. With 81.8 million inhabitants, it is the most populous member state and the
largest economy
in the
European Union
European Union
The European Union is an economic and political union of 27 independent member states which are located primarily in Europe. The EU traces its origins from the European Coal and Steel Community and the European Economic Community , formed by six countries in 1958...
.
933 After a ten-year truce, German King Henry I defeats a Hungarian army at the Battle of Riade near the Unstrut river.
1014 Pope Benedict VIII recognizes Henry of Bavaria as King of Germany.
1028 Henry III, son of Conrad, is elected king of the Germans.
1152 Frederick I Barbarossa is elected King of the Germans.
1241 Battle of Liegnitz: Mongol forces defeat the Polish and German armies.
1266 Battle of Benevento: An army led by Charles, Count of Anjou, defeats a combined German and Sicilian force led by King Manfred of Sicily. Manfred is killed in the battle and Pope Clement IV invests Charles as king of Sicily and Naples.
1284 the legendary Pied Piper leads 130 children out of Hamelin, Germany
1362 A storm tide in the North Sea destroys the German city of Rungholt on the island of Strand.
1374 A sudden outbreak of St. John's Dance causes people in the streets of Aachen, Germany, to experience hallucinations and begin to jump and twitch uncontrollably until they collapse from exhaustion.
1484 Pope Innocent VIII issues the ''Summis desiderantes'', a papal bull that deputizes Heinrich Kramer and James Sprenger as inquisitors to root out alleged witchcraft in Germany and leads to one of the most oppressive witch hunts in European history.
Thinking of Germany in the night robs me of my sleep.

Original (German): Denk ich an Deutschland in der Nacht, dann bin ich um den Schlaf gebracht.
"Whenever the literary German dives into a sentence, that is the last you are going to see of him till he emerges on the other side of his Atlantic with his verb in his mouth." ~ Mark Twain