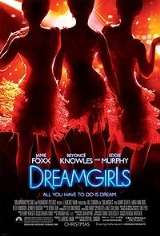 Dreamgirls (film)
Dreamgirls
is a 2006
musical
Musical film
The musical film is a film genre in which songs sung by the characters are interwoven into the narrative, sometimes accompanied by dancing. The songs usually advance the plot or develop the film's characters, though in some cases they serve merely as breaks in the storyline, often as elaborate...
drama film
Drama film
A drama film is a film genre that depends mostly on in-depth development of realistic characters dealing with emotional themes. Dramatic themes such as alcoholism, drug addiction, infidelity, moral dilemmas, racial prejudice, religious intolerance, poverty, class divisions, violence against women...
, directed by
Bill Condon
Bill Condon
William "Bill" Condon is an American screenwriter and director. Condon is best known for directing and writing the critically acclaimed films Gods and Monsters, Chicago, Kinsey, and Dreamgirls. In 1998, Condon debuted as a screenwriter in Gods and Monsters, which won him his first Academy Award....
and jointly produced and released by
DreamWorks
DreamWorks
DreamWorks Pictures, also known as DreamWorks, LLC, DreamWorks SKG, DreamWorks II Distribution Co., LLC, DreamWorks Studios or DW Studios, LLC, is an American film studio which develops, produces, and distributes films, video games and television programming...
and
Paramount Pictures
Paramount Pictures
Paramount Pictures Corporation is an American film production and distribution company, located at 5555 Melrose Avenue in Hollywood. Founded in 1912 and currently owned by media conglomerate Viacom, it is America's oldest existing film studio; it is also the last major film studio still...
. The film debuted in three special
road show
Roadshow theatrical release
A roadshow theatrical release was a term in the American motion picture industry for a practice in which a film opened in a limited number of theaters in large cities like Los Angeles, New York, Chicago, Houston, Atlanta, Dallas, and San Francisco for a specific period of time before the...
engagements beginning December 15, 2006 before its nationwide release on December 25, 2006.
Adapted
Film adaptation
Film adaptation is the transfer of a written work to a feature film. It is a type of derivative work.A common form of film adaptation is the use of a novel as the basis of a feature film, but film adaptation includes the use of non-fiction , autobiography, comic book, scripture, plays, and even...
from the 1981
Broadway
Broadway theatre
Broadway theatre, commonly called simply Broadway, refers to theatrical performances presented in one of the 40 professional theatres with 500 or more seats located in the Theatre District centered along Broadway, and in Lincoln Center, in Manhattan in New York City...
musical
Musical theatre
Musical theatre is a form of theatre combining songs, spoken dialogue, acting, and dance. The emotional content of the piece – humor, pathos, love, anger – as well as the story itself, is communicated through the words, music, movement and technical aspects of the entertainment as an...
of the same name
Dreamgirls
Dreamgirls is a Broadway musical, with music by Henry Krieger and lyrics and book by Tom Eyen. Based upon the show business aspirations and successes of R&B acts such as The Supremes, The Shirelles, James Brown, Jackie Wilson, and others, the musical follows the story of a young female singing trio...
by composer
Henry Krieger
Henry Krieger
Henry Krieger is an American composer.Krieger wrote the music for the Broadway shows Dreamgirls , The Tap Dance Kid , and Side Show , as well as other works of musical theatre.He was nominated for the Tony Awards for Best Score for both Dreamgirls and Side Show, won a Grammy...
and lyricist/librettist
Tom Eyen
Tom Eyen
Tom Eyen was an American playwright, lyricist, television writer and theatre director.Eyen is best known for works at opposite ends of the theatrical spectrum...
,
Dreamgirls
is a
roman à clef
Roman à clef
Roman à clef or roman à clé , French for "novel with a key", is a phrase used to describe a novel about real life, overlaid with a façade of fiction. The fictitious names in the novel represent real people, and the "key" is the relationship between the nonfiction and the fiction...
of the histories of the Motown record label and one of its acts,
The Supremes
The Supremes
The Supremes, an American female singing group, were the premier act of Motown Records during the 1960s.Originally founded as The Primettes in Detroit, Michigan, in 1959, The Supremes' repertoire included doo-wop, pop, soul, Broadway show tunes, psychedelic soul, and disco...
.
[singing] And I am telling you I'm not going You're the best man I'll ever know There's no way I could ever go no, no, there's no way No, no, no, no way I'm living without you I'm stayin', I'm stayin' And you, and you...you're gonna love me

[singing] And Lorrell loves Jimmy Lorrell loves Jimmy Lorrell loves Jimmy, it's true But Lorrell and Jimmy are through

[singing] Ev'ry man has his own special dream And that dream is just about to come true Life's not as bad as it may seem If you open your eyes towards in front of you

[singing] We're your dreamgirls, boy, we'll make you happy... Yeah! We're your dreamgirls, boy, we'll always care We're your dreamgirls, dreamgirls will never leave you... No, no! And all you got to do is dream Baby, we'll be there

[singing] Heavy, heavy! You got me heavy baby Heavy, heavy! You got so heavy on me

Hey, I got soul! You can't kill a man with soul!

I can't do it no more. I can't sing no more sad songs.

Jimmy want a rib, Jimmy want a steak, Jimmy want a piece of your chocolate cake!

Fame comes and goes, starts rise and fall, but dreams live forever.