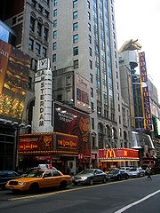 Broadway theatre
Broadway theatre
, commonly called simply
Broadway
, refers to theatrical performances presented in one of the 40 professional
theatres
Theater (structure)
A theater or theatre is a structure where theatrical works or plays are performed or other performances such as musical concerts may be produced. While a theater is not required for performance , a theater serves to define the performance and audience spaces...
with 500 or more seats located in the
Theatre District
Theatre District, New York
The Theater District is an area in Midtown Manhattan where most Broadway theaters are located, as well as many other theaters, movie theaters, restaurants, hotels and other places of entertainment. It extends from 40th Street to 54th Street, and from west of Sixth Avenue to east of Eighth Avenue,...
centered along
Broadway
Broadway (New York City)
Broadway is a prominent avenue in New York City, United States, which runs through the full length of the borough of Manhattan and continues northward through the Bronx borough before terminating in Westchester County, New York. It is the oldest north–south main thoroughfare in the city, dating to...
, and in Lincoln Center, in
Manhattan
Manhattan
Manhattan is the oldest and the most densely populated of the five boroughs of New York City. Located primarily on the island of Manhattan at the mouth of the Hudson River, the boundaries of the borough are identical to those of New York County, an original county of the state of New York...
in
New York City
New York City
New York is the most populous city in the United States and the center of the New York Metropolitan Area, one of the most populous metropolitan areas in the world. New York exerts a significant impact upon global commerce, finance, media, art, fashion, research, technology, education, and...
. Along with
London
London
London is the capital city of :England and the :United Kingdom, the largest metropolitan area in the United Kingdom, and the largest urban zone in the European Union by most measures. Located on the River Thames, London has been a major settlement for two millennia, its history going back to its...
's
West End theatre
West End theatre
West End theatre is a popular term for mainstream professional theatre staged in the large theatres of London's 'Theatreland', the West End. Along with New York's Broadway theatre, West End theatre is usually considered to represent the highest level of commercial theatre in the English speaking...
, Broadway theatre is widely considered to represent the highest level of commercial theatre in the
English-speaking world
English-speaking world
The English-speaking world consists of those countries or regions that use the English language to one degree or another. For more information, please see:Lists:* List of countries by English-speaking population...
.
The Broadway theatre district is a popular tourist attraction in New York.