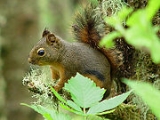 Douglas Squirrel
The Douglas Squirrel is a
pine squirrel
Pine squirrel
Pine squirrels are squirrels of the genus Tamiasciurus. This genus includes three species, the American Red Squirrel T. hudsonicus, the Douglas Squirrel T. douglasii and Mearns's Squirrel T. mearnsi...
found in the Pacific coastal states and provinces of
North America
North America
North America is a continent wholly within the Northern Hemisphere and almost wholly within the Western Hemisphere. It is also considered a northern subcontinent of the Americas...
. It is sometimes known as the Chickaree or Pine Squirrel, but since Chickaree is also used for the
American Red Squirrel
American Red Squirrel
The American Red Squirrel is one of three species of tree squirrel currently classified in the genus Tamiasciurus and known as pine squirrels...
and Pine Squirrel for the genus Tamiasciurus, these alternative names are better avoided. Variant spellings of the common name are Douglas' Squirrel and Douglas's Squirrel. The
Native Americans
Native Americans in the United States
Native Americans in the United States are the indigenous peoples in North America within the boundaries of the present-day continental United States, parts of Alaska, and the island state of Hawaii. They are composed of numerous, distinct tribes, states, and ethnic groups, many of which survive as...
of
Kings River
Kings River (California)
The Kings River is a major river of south-central California. About long, it drains an area of the high western Sierra Nevada and the Central Valley. A large alluvial fan has formed where the river's gradient decreases in the Central Valley so the river divides into distributaries...
called it the "Pillillooeet", in imitation of its characteristic
alarm call
Alarm call
In the field of animal communication, an alarm signal is an antipredator adaptation referring to various signals emitted by social animals in response to danger. Many primates and birds have elaborate alarm calls for warning conspecifics of approaching predators. For example, the characteristic...
.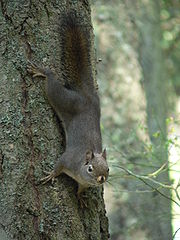 Description
John Muir
John Muir
John Muir was a Scottish-born American naturalist, author, and early advocate of preservation of wilderness in the United States. His letters, essays, and books telling of his adventures in nature, especially in the Sierra Nevada mountains of California, have been read by millions...
described the Douglas Squirrel as "by far the most interesting and influential of the California sciuridæ". It is a small, lively, bushy-tailed tree squirrel, enchanting to watch. Adults are about 33 cm in length (including its tail, which is about 13 cm long), and weigh between 150 and 300 grams. Their appearance varies according to the season. In the summer, they are a grayish or almost greenish brown on their backs, and pale orange on the chest and belly, while legs and feet appear brown. In the winter, the coat is browner and the underside is grayer; also, the ears appear even tuftier than they do in summer. Like many squirrels, Douglas Squirrels have a white eye ring.
Habitat
Douglas Squirrels live in coniferous forests, from the Sierra Nevada mountains of
California
California
California is a state located on the West Coast of the United States. It is by far the most populous U.S. state, and the third-largest by land area...
northwards to coastal
British Columbia
British Columbia
British Columbia is the westernmost of Canada's provinces and is known for its natural beauty, as reflected in its Latin motto, Splendor sine occasu . Its name was chosen by Queen Victoria in 1858...
and Southeast Alaska. They prefer old-growth or mature second-growth forest, and some authors regard them as dependent on its presence. They are active by day, throughout the year, often chattering noisily at intruders. In summer nights, they sleep in ball-shaped nests that they make in the trees, but in the winter they use holes in trees as nests. They are territorial; in winter, each squirrel occupies a territory of about 10 000 square metres, but during the breeding season a mated pair will defend a single territory together. Groups of squirrels seen together during the summer are likely to be juveniles from a single litter.
Diet
Douglas Squirrels mostly eat seeds of coniferous trees such as Douglas Fir,
Sitka Spruce
Sitka Spruce
Picea sitchensis, the Sitka Spruce, is a large coniferous evergreen tree growing to 50–70 m tall, exceptionally to 95 m tall, and with a trunk diameter of up to 5 m, exceptionally to 6–7 m diameter...
and Shore Pine, though they do also eat acorns, berries, mushrooms, the eggs of birds such as
Yellow Warbler
Yellow Warbler
Dendroica petechia is a New World warbler species or superspecies; the subspecies group around D. aestiva is increasingly treated as good species Dendroica aestiva again. The name for the entire cryptic species complex is Mangrove Warbler, and another group of subspecies is known as Golden Warbler...
s, and some fruit including strawberries and plums. Unlike many other types of tree squirrel, they lack cheek pouches in which to hold food. They are
scatter hoarders
Scatter-hoarder
Hoarding or caching is a type of animal behavior where an animal will store its food in times of surplus for times when food is less plentiful...
, burying pine cones (which they cut from the trees while green) during the autumn. They often use a single place, called a
midden
Midden
A midden, is an old dump for domestic waste which may consist of animal bone, human excrement, botanical material, vermin, shells, sherds, lithics , and other artifacts and ecofacts associated with past human occupation...
, for peeling the scales off cones to get at the seeds. The discarded scales may accumulate for years, into piles more than a meter across as the same site is used by generations of squirrels. Their predators include
American Marten
American Marten
The American marten is a North American member of the family Mustelidae, sometimes referred to as the pine marten. The name "pine marten" is derived from the common but distinct Eurasian species of Martes...
s,
Bobcat
Bobcat
The bobcat is a North American mammal of the cat family Felidae, appearing during the Irvingtonian stage of around 1.8 million years ago . With twelve recognized subspecies, it ranges from southern Canada to northern Mexico, including most of the continental United States...
s, domestic cats, Northern Goshawks, and
owl
Owl
Owls are a group of birds that belong to the order Strigiformes, constituting 200 bird of prey species. Most are solitary and nocturnal, with some exceptions . Owls hunt mostly small mammals, insects, and other birds, although a few species specialize in hunting fish...
s; although they quickly acclimatise to human presence, humans can be a threat to them, through robbing of their cone caches to find seeds for tree cultivation and through the destruction of old growth forest. However, the squirrels' numbers appear to be unaffected by commercial thinning of forests.
Mating can occur as early as February. Gestation is about four weeks, and the young (which are
altricial
Altricial
Altricial, meaning "requiring nourishment", refers to a pattern of growth and development in organisms which are incapable of moving around on their own soon after hatching or being born...
) are weaned at about eight weeks of age. There may be up to six kits in a litter, though four is more usual. In the southern and lower parts of their range they produce two litters each year.
External links