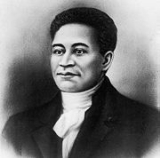 Crispus Attucks
Crispus Attucks
was a dockworker of
Wampanoag
Wampanoag
The Wampanoag In the 1600s when encountered by the English, the Wampanoag lived in southeastern Massachusetts and Rhode Island, as well as within a territory that encompassed current day Martha's Vineyard and Nantucket...
and African descent. He was the first person shot to death by British redcoats during the
Boston Massacre
Boston Massacre
The Boston Massacre, called the Boston Riot by the British, was an incident on March 5, 1770, in which British Army soldiers killed five civilian men. British troops had been stationed in Boston, capital of the Province of Massachusetts Bay, since 1768 in order to protect and support...
, in
Boston
Boston
Boston is the capital of and largest city in Massachusetts, and is one of the oldest cities in the United States. The largest city in New England, Boston is regarded as the unofficial "Capital of New England" for its economic and cultural impact on the entire New England region. The city proper had...
,
Massachusetts
Massachusetts
The Commonwealth of Massachusetts is a state in the New England region of the northeastern United States of America. It is bordered by Rhode Island and Connecticut to the south, New York to the west, and Vermont and New Hampshire to the north; at its east lies the Atlantic Ocean. As of the 2010...
. He has been called the first
martyr
Martyr
A martyr is somebody who suffers persecution and death for refusing to renounce, or accept, a belief or cause, usually religious.-Meaning:...
of the revolution.
Little is known for certain about Crispus Attucks beyond that he, along with Samuel Gray and James Caldwell, died "on the spot" during the incident. Two major sources of eyewitness testimony about the Boston Massacre, both published in 1770, did not refer to Attucks as a "Negro," or "black" man; it appeared that Bostonians accepted him as mixed race.