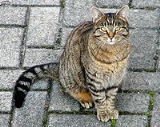 Cat
The
cat
also known as the
domestic cat
or
housecat
to distinguish it from other
felids
Felidae
Felidae is the biological family of the cats; a member of this family is called a felid. Felids are the strictest carnivores of the thirteen terrestrial families in the order Carnivora, although the three families of marine mammals comprising the superfamily pinnipedia are as carnivorous as the...
and
felines
Felinae
Felinae is a subfamily of the family Felidae which includes the genera and species listed below. Most are small to medium-sized cats, although the group does include some larger animals, such as the Cougar and Cheetah....
, is a small, usually furry,
domesticated
Domestication
Domestication or taming is the process whereby a population of animals or plants, through a process of selection, becomes accustomed to human provision and control. In the Convention on Biological Diversity a domesticated species is defined as a 'species in which the evolutionary process has been...
,
carnivorous
Carnivore
A carnivore meaning 'meat eater' is an organism that derives its energy and nutrient requirements from a diet consisting mainly or exclusively of animal tissue, whether through predation or scavenging...
mammal
Mammal
Mammals are members of a class of air-breathing vertebrate animals characterised by the possession of endothermy, hair, three middle ear bones, and mammary glands functional in mothers with young...
that is valued by
human
Human
Humans are the only living species in the Homo genus...
s for its companionship and for its ability to hunt
vermin
Vermin
Vermin is a term applied to various animal species regarded by some as pests or nuisances and especially to those associated with the carrying of disease. Since the term is defined in relation to human activities, which species are included will vary from area to area and even person to person...
and household pests. Cats have been associated with humans for at least 9,500 years, and are currently the most popular pet in the world. Owing to their close association with humans, cats are now found almost everywhere in the world.
Cats are similar in
anatomy
Anatomy
Anatomy is a branch of biology and medicine that is the consideration of the structure of living things. It is a general term that includes human anatomy, animal anatomy , and plant anatomy...
to the other felids, with strong, flexible bodies, quick reflexes, sharp retractable claws, and teeth adapted to killing small prey.