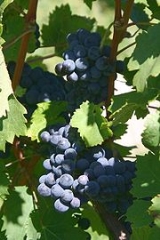 Cabernet Sauvignon
Cabernet Sauvignon
is one of the world's most widely recognized red
wine
Wine
Wine is an alcoholic beverage, made of fermented fruit juice, usually from grapes. The natural chemical balance of grapes lets them ferment without the addition of sugars, acids, enzymes, or other nutrients. Grape wine is produced by fermenting crushed grapes using various types of yeast. Yeast...
grape varieties
. It is grown in nearly every major wine producing country among a diverse spectrum of climates from
Canada's
Canadian wine
Canadian wine is produced in mainly southern British Columbia and southern Ontario. There is also a growing number of small scale producers of grapes and wine in southern Quebec and Nova Scotia. The two largest wine-producing regions in Canada are the Okanagan Valley of British Columbia and the...
Okanagan Valley to
Lebanon's
Lebanese wine
Lebanon is among the oldest sites of wine production in the world. The Israelite prophet Hosea is said to have urged his followers to return to Yahweh so that "they will blossom as the vine, [and] their fragrance will be like the wine of Lebanon"...
Beqaa Valley
Beqaa Valley
The Beqaa Valley is a fertile valley in east Lebanon. For the Romans, the Beqaa Valley was a major agricultural source, and today it remains Lebanon's most important farming region...
. Cabernet Sauvignon became internationally recognized through its prominence in
Bordeaux wine
Bordeaux wine
A Bordeaux wine is any wine produced in the Bordeaux region of France. Average vintages produce over 700 million bottles of Bordeaux wine, ranging from large quantities of everyday table wine, to some of the most expensive and prestigious wines in the world...
s where it is often blended with
Merlot
Merlot
Merlot is a darkly blue-coloured wine grape, that is used as both a blending grape and for varietal wines. The name Merlot is thought to derive from the Old French word for young blackbird, merlot, a diminutive of merle, the blackbird , probably from the color of the grape. Merlot-based wines...
and
Cabernet Franc
Cabernet Franc
Cabernet Franc is one of the major black grape varieties worldwide. It is principally grown for blending with Cabernet Sauvignon and Merlot in the Bordeaux style, but can also be vinified alone - as in the Loire's Chinon...
.