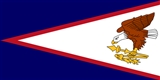 American Samoa
American Samoa
is an
unincorporated territory
Unincorporated territories of the United States
Unincorporated territory is a legal term of art in United States law denoting an area controlled by the government of the United States, but which is not a part of the United States proper ....
of the
United States
United States
The United States of America is a federal constitutional republic comprising fifty states and a federal district...
located in the South Pacific Ocean, southeast of the sovereign state of
Samoa
Samoa
Samoa , officially the Independent State of Samoa, formerly known as Western Samoa is a country encompassing the western part of the Samoan Islands in the South Pacific Ocean. It became independent from New Zealand in 1962. The two main islands of Samoa are Upolu and one of the biggest islands in...
(formerly known as Western Samoa). The main (largest and most populous) island is
Tutuila
Tutuila
Tutuila is the largest and the main island of American Samoa in the archipelago of Samoan Islands. It is the third largest island in the Samoan Islands chain of the Central Pacific located roughly northeast of Brisbane, Australia and over northeast of Fiji. It contains a large, natural harbor,...
, with the
Manua
Manua
Manua, or the Manua Islands Group , in the Samoan Islands, consists of three main islands: Tau, Ofu and Olosega...
Islands,
Rose Atoll
Rose Atoll
Rose Atoll, sometimes called Rose Island or Motu O Manu by people of the nearby Manu'a Islands, is an oceanic atoll within the U.S. territory of American Samoa. It is an uninhabited wildlife refuge. It is the southernmost point in the United States. The land area is 0.214 km²...
, and
Swains Island
Swains Island
Swains Island is an atoll in the Tokelau chain. Culturally a part of Tokelau, it is an unincorporated unorganized territory of the United States administered by American Samoa. Swains Island has also been known at various times as Olosenga Island, Olohega Island, Quiros Island, Gente Hermosa...
also included in the territory.
American Samoa is part of the
Samoan Islands
Samoan Islands
The Samoan Islands or Samoa Islands is an archipelago covering in the central South Pacific, forming part of Polynesia and the wider region of Oceania...
chain, located west of the
Cook Islands
Cook Islands
The Cook Islands is a self-governing parliamentary democracy in the South Pacific Ocean in free association with New Zealand...
, north of
Tonga
Tonga
Tonga, officially the Kingdom of Tonga , is a state and an archipelago in the South Pacific Ocean, comprising 176 islands scattered over of ocean in the South Pacific...
, and some 300 miles (500 km) south of
Tokelau
Tokelau
Tokelau is a territory of New Zealand in the South Pacific Ocean that consists of three tropical coral atolls with a combined land area of 10 km2 and a population of approximately 1,400...
.