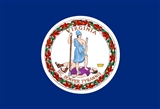 Virginia
The
Commonwealth of Virginia
(commonly known as
Virginia
()), is a
U.S. state
U.S. state
A U.S. state is any one of the 50 federated states of the United States of America that share sovereignty with the federal government. Because of this shared sovereignty, an American is a citizen both of the federal entity and of his or her state of domicile. Four states use the official title of...
on the
Atlantic Coast
East Coast of the United States
The East Coast of the United States, also known as the Eastern Seaboard, refers to the easternmost coastal states in the United States, which touch the Atlantic Ocean and stretch up to Canada. The term includes the U.S...
of the
Southern United States
Southern United States
The Southern United States—commonly referred to as the American South, Dixie, or simply the South—constitutes a large distinctive area in the southeastern and south-central United States...
. Virginia is nicknamed the "Old Dominion" and sometimes the "Mother of Presidents" after the eight U.S. presidents born there. The geography and climate of the Commonwealth are shaped by the
Blue Ridge Mountains
Blue Ridge Mountains
The Blue Ridge Mountains are a physiographic province of the larger Appalachian Mountains range. This province consists of northern and southern physiographic regions, which divide near the Roanoke River gap. The mountain range is located in the eastern United States, starting at its southern-most...
and the
Chesapeake Bay
Chesapeake Bay
The Chesapeake Bay is the largest estuary in the United States. It lies off the Atlantic Ocean, surrounded by Maryland and Virginia. The Chesapeake Bay's drainage basin covers in the District of Columbia and parts of six states: New York, Pennsylvania, Delaware, Maryland, Virginia, and West...
, which provide habitat for much of its flora and fauna.
1584 Sir Walter Raleigh is granted a patent to colonize Virginia.
1584 Sir Walter Raleigh establishes the first English colony on Roanoke Island, old Virginia (now North Carolina).
1607 English colonists of the Jamestown settlement make landfall at Cape Henry, Virginia.
1609 Official ratification of the Second Charter of Virginia takes place.
1609 Bermuda is first settled by survivors of the English ship Sea Venture ''en route'' to Virginia.
1614 In Virginia, Native American Pocahontas marries English colonist John Rolfe.
1619 38 colonists from Berkeley Parish in England disembark in Virginia and give thanks to God (this is considered by many to be the first Thanksgiving in the Americas).
1677 Treaty of Middle Plantation establishes peace between the Virginia colonists and the local Natives.
1754 French and Indian War: in the first engagement of the war, Virginia militia under 22-year-old Lieutenant Colonel George Washington defeat a French reconnaissance party in the Battle of Jumonville Glen in what is now Fayette County in southwestern Pennsylvania.
1773 America's first insane asylum opens for 'Persons of Insane and Disordered Minds' in Virginia