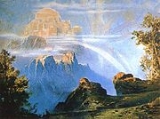 Valhalla
In
Norse mythology
Norse mythology
Norse mythology, a subset of Germanic mythology, is the overall term for the myths, legends and beliefs about supernatural beings of Norse pagans. It flourished prior to the Christianization of Scandinavia, during the Early Middle Ages, and passed into Nordic folklore, with some aspects surviving...
,
Valhalla
(from
Old Norse
Old Norse
Old Norse is a North Germanic language that was spoken by inhabitants of Scandinavia and inhabitants of their overseas settlements during the Viking Age, until about 1300....
Valhǫll
"hall of the slain") is a majestic, enormous hall located in
Asgard
Asgard
In Norse religion, Asgard is one of the Nine Worlds and is the country or capital city of the Norse Gods surrounded by an incomplete wall attributed to a Hrimthurs riding the stallion Svadilfari, according to Gylfaginning. Valhalla is located within Asgard...
, ruled over by the god
Odin
Odin
Odin is a major god in Norse mythology and the ruler of Asgard. Homologous with the Anglo-Saxon "Wōden" and the Old High German "Wotan", the name is descended from Proto-Germanic "*Wodanaz" or "*Wōđanaz"....
. Chosen by Odin, half of those that die in combat travel to Valhalla upon death, led by
valkyrie
Valkyrie
In Norse mythology, a valkyrie is one of a host of female figures who decides who dies in battle. Selecting among half of those who die in battle , the valkyries bring their chosen to the afterlife hall of the slain, Valhalla, ruled over by the god Odin...
s, while the other half go to the goddess Freyja's field
Fólkvangr
Fólkvangr
In Norse mythology, Fólkvangr is a meadow or field ruled over by the goddess Freyja where half of those that die in combat go upon death, while the other half go to the god Odin in Valhalla...
. In Valhalla, the dead join the masses of those who have died in combat known as
Einherjar
Einherjar
In Norse mythology, the einherjar are those that have died in battle and are brought to Valhalla by valkyries. In Valhalla, the einherjar eat their fill of the nightly-resurrecting beast Sæhrímnir, and are brought their fill of mead by valkyries...
, as well as various legendary
Germanic heroes
Germanic mythology
Germanic mythology is a comprehensive term for myths associated with historical Germanic paganism, including Norse mythology, Anglo-Saxon mythology, Continental Germanic mythology, and other versions of the mythologies of the Germanic peoples...
and kings, as they prepare to aid Odin during the events of
Ragnarök
Ragnarök
In Norse mythology, Ragnarök is a series of future events, including a great battle foretold to ultimately result in the death of a number of major figures , the occurrence of various natural disasters, and the subsequent submersion of the world in water...
.