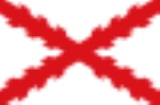 Spanish Empire
The
Spanish Empire
comprised territories and colonies administered directly by
Spain
Spain
Spain , officially the Kingdom of Spain languages]] under the European Charter for Regional or Minority Languages. In each of these, Spain's official name is as follows:;;;;;;), is a country and member state of the European Union located in southwestern Europe on the Iberian Peninsula...
in Europe, in America, Africa, Asia and Oceania. It originated during the Age of Exploration and was therefore one of the first global empires. At the time of
Habsburgs
Habsburg Spain
Habsburg Spain refers to the history of Spain over the 16th and 17th centuries , when Spain was ruled by the major branch of the Habsburg dynasty...
, Spain reached the peak of its world power. being the foremost global power. It lasted from the 15th century through — in the case of its African holdings — the latter portion of the 20th century.
After the
War of the Castilian Succession
War of the Castilian Succession
The War of the Castilian Succession was the military conflict contested from 1475 to 1479 for the succession of the Crown of Castile fought between the supporters of Juana la Beltraneja, daughter of the late monarch Henry IV of Castile, and those of Henry's half sister, Isabella, who was ultimately...
(1475–1479), Spain had emerged with a personally unified monarchy, with the marriage of the
Catholic Monarchs
Catholic Monarchs
The Catholic Monarchs is the collective title used in history for Queen Isabella I of Castile and King Ferdinand II of Aragon. They were both from the House of Trastámara and were second cousins, being both descended from John I of Castile; they were given a papal dispensation to deal with...
or
los Reyes Catolicos
between the Queen of
Castile
Crown of Castile
The Crown of Castile was a medieval and modern state in the Iberian Peninsula that formed in 1230 as a result of the third and definitive union of the crowns and parliaments of the kingdoms of Castile and León upon the accession of the then King Ferdinand III of Castile to the vacant Leonese throne...
and the King of
Aragon
Crown of Aragon
The Crown of Aragon Corona d'Aragón Corona d'Aragó Corona Aragonum controlling a large portion of the present-day eastern Spain and southeastern France, as well as some of the major islands and mainland possessions stretching across the Mediterranean as far as Greece...
: the internal and foreign policy was coordinated although the rule was separate.