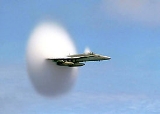 Sound barrier
The
sound barrier
, in
aerodynamics
Aerodynamics
Aerodynamics is a branch of dynamics concerned with studying the motion of air, particularly when it interacts with a moving object. Aerodynamics is a subfield of fluid dynamics and gas dynamics, with much theory shared between them. Aerodynamics is often used synonymously with gas dynamics, with...
, is the point at which an
aircraft
Aircraft
An aircraft is a vehicle that is able to fly by gaining support from the air, or, in general, the atmosphere of a planet. An aircraft counters the force of gravity by using either static lift or by using the dynamic lift of an airfoil, or in a few cases the downward thrust from jet engines.Although...
moves from
transonic
Transonic
Transonic speed is an aeronautics term referring to the condition of flight in which a range of velocities of airflow exist surrounding and flowing past an air vehicle or an airfoil that are concurrently below, at, and above the speed of sound in the range of Mach 0.8 to 1.2, i.e. 600–900 mph...
to
supersonic
Supersonic
Supersonic speed is a rate of travel of an object that exceeds the speed of sound . For objects traveling in dry air of a temperature of 20 °C this speed is approximately 343 m/s, 1,125 ft/s, 768 mph or 1,235 km/h. Speeds greater than five times the speed of sound are often...
speed. The term, which occasionally has other meanings, came into use during
World War II
World War II
World War II, or the Second World War , was a global conflict lasting from 1939 to 1945, involving most of the world's nations—including all of the great powers—eventually forming two opposing military alliances: the Allies and the Axis...
, when a number of aircraft started to encounter the effects of
compressibility
, a collection of several unrelated aerodynamic effects that "struck" their planes like an impediment to further acceleration.