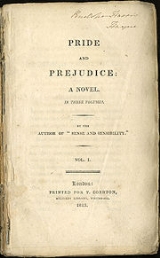 Pride and Prejudice
Pride and Prejudice
is a
novel
Novel
A novel is a book of long narrative in literary prose. The genre has historical roots both in the fields of the medieval and early modern romance and in the tradition of the novella. The latter supplied the present generic term in the late 18th century....
by
Jane Austen
Jane Austen
Jane Austen was an English novelist whose works of romantic fiction, set among the landed gentry, earned her a place as one of the most widely read writers in English literature, her realism and biting social commentary cementing her historical importance among scholars and critics.Austen lived...
, first published in 1813. The story follows the main character
Elizabeth Bennet
Elizabeth Bennet
Elizabeth Bennet, later Elizabeth Darcy, is the protagonist in the 1813 novel Pride and Prejudice by Jane Austen. She is often referred to as Eliza or Lizzy by her friends and family...
as she deals with issues of manners, upbringing, morality, education and marriage in the society of the
landed gentry
Landed gentry
Landed gentry is a traditional British social class, consisting of land owners who could live entirely off rental income. Often they worked only in an administrative capacity looking after the management of their own lands....
of early 19th-century England. Elizabeth is the second of five daughters of a country gentleman, living near the fictional town of Meryton in
Hertfordshire
Hertfordshire
Hertfordshire is a ceremonial and non-metropolitan county in the East region of England. The county town is Hertford.The county is one of the Home Counties and lies inland, bordered by Greater London , Buckinghamshire , Bedfordshire , Cambridgeshire and...
, near
London
London
London is the capital city of :England and the :United Kingdom, the largest metropolitan area in the United Kingdom, and the largest urban zone in the European Union by most measures. Located on the River Thames, London has been a major settlement for two millennia, its history going back to its...
.
Though the story is set at the turn of the 19th century, it retains a fascination for modern readers, continuing near the top of lists of 'most loved books' such as The Big Read.
It is a truth universally acknowledged, that a single man in possession of a good fortune, must be in want of a wife. However little known the feelings or views of such a man may be on his first entering a neighbourhood, this truth is so well fixed in the minds of the surrounding families, that he is considered the rightful property of some one or other of their daughters. (Ch. 1)

She [Mrs. Bennet] was a woman of mean understanding, little information, and uncertain temper. (Ch. 1)

"She is tolerable; but not handsome enough to tempt me; I am in no humour at present to give consequence to young ladies who are slighted by other men. You had better return to your partner and enjoy her smiles, for you are wasting your time with me." (Mr Darcy to Mr. Bingley about Elizabeth Bennet; Ch. 3)

"But I can assure you," she added, "that Lizzy does not lose much by not suiting his fancy; for he is a most disagreeable, horrid man, not at all worth pleasing. So high and so conceited that there was no enduring him! He walked here, and he walked there, fancying himself so very great! Not handsome enough to dance with! I wish you had been there, my dear, to have given him one of your set-downs. I quite detest the man." (Mrs. Bennet to Mr. Bennet about Mr. Darcy; Ch. 3)

"I could easily forgive his pride, if he had not mortified mine." (Elizabeth about Darcy; Ch. 5)

"Vanity and pride are different things, though the words are often used synonymously. A person may be proud without being vain. Pride relates more to our opinion of ourselves, vanity to what we would have others think of us." (Mary; Ch. 5)

If a woman is partial to a man, and does not endeavour to conceal it, he must find it out. (Ch. 6)