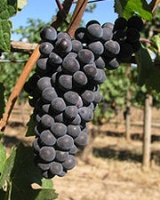 Pinot Noir
Pinot noir
is a black
wine
Wine
Wine is an alcoholic beverage, made of fermented fruit juice, usually from grapes. The natural chemical balance of grapes lets them ferment without the addition of sugars, acids, enzymes, or other nutrients. Grape wine is produced by fermenting crushed grapes using various types of yeast. Yeast...
grape
Grape
A grape is a non-climacteric fruit, specifically a berry, that grows on the perennial and deciduous woody vines of the genus Vitis. Grapes can be eaten raw or they can be used for making jam, juice, jelly, vinegar, wine, grape seed extracts, raisins, molasses and grape seed oil. Grapes are also...
variety of the species
Vitis vinifera
Vitis vinifera
Vitis vinifera is a species of Vitis, native to the Mediterranean region, central Europe, and southwestern Asia, from Morocco and Portugal north to southern Germany and east to northern Iran....
. The name may also refer to wines created predominantly from Pinot noir grapes. The name is derived from the
French
French language
French is a Romance language spoken as a first language in France, the Romandy region in Switzerland, Wallonia and Brussels in Belgium, Monaco, the regions of Quebec and Acadia in Canada, and by various communities elsewhere. Second-language speakers of French are distributed throughout many parts...
words for "pine" and "black" alluding to the grape variety's tightly clustered dark purple pine cone-shaped bunches of fruit.
Pinot noir grapes are grown around the world, mostly in the cooler regions, but the grape is chiefly associated with the Burgundy region of
France
France
The French Republic , The French Republic , The French Republic , (commonly known as France , is a unitary semi-presidential republic in Western Europe with several overseas territories and islands located on other continents and in the Indian, Pacific, and Atlantic oceans. Metropolitan France...
.