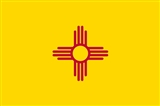 New Mexico
New Mexico
is a state located in the
southwest
Southwestern United States
The Southwestern United States is a region defined in different ways by different sources. Broad definitions include nearly a quarter of the United States, including Arizona, California, Colorado, Nevada, New Mexico, Oklahoma, Texas and Utah...
and
western regions
Western United States
.The Western United States, commonly referred to as the American West or simply "the West," traditionally refers to the region comprising the westernmost states of the United States. Because the U.S. expanded westward after its founding, the meaning of the West has evolved over time...
of the
United States
United States
The United States of America is a federal constitutional republic comprising fifty states and a federal district...
. New Mexico is also usually considered one of the
Mountain States
Mountain States
thumb|300px|Regional definitions vary from source to source. The states shown in dark red are always included, while the striped states are usually considered part of the same region called the Mountain States....
. With a population density of 16 per square mile, New Mexico is the sixth-most sparsely inhabited U.S. state.
Inhabited by Native American populations for many centuries, it has also been part of the
Imperial Spanish
Spanish Empire
The Spanish Empire comprised territories and colonies administered directly by Spain in Europe, in America, Africa, Asia and Oceania. It originated during the Age of Exploration and was therefore one of the first global empires. At the time of Habsburgs, Spain reached the peak of its world power....
viceroyalty of
New Spain
New Spain
New Spain, formally called the Viceroyalty of New Spain , was a viceroyalty of the Spanish colonial empire, comprising primarily territories in what was known then as 'América Septentrional' or North America. Its capital was Mexico City, formerly Tenochtitlan, capital of the Aztec Empire...
, part of
Mexico
Mexico
The United Mexican States , commonly known as Mexico , is a federal constitutional republic in North America. It is bordered on the north by the United States; on the south and west by the Pacific Ocean; on the southeast by Guatemala, Belize, and the Caribbean Sea; and on the east by the Gulf of...
, and a U.S. territory. Among U.S.