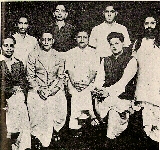 Nathuram Godse
Nathuram Vinayak Godse (19 May 1910 – 15 November 1949), from the city of
Pune
Pune
Pune , is the eighth largest metropolis in India, the second largest in the state of Maharashtra after Mumbai, and the largest city in the Western Ghats. Once the centre of power of the Maratha Empire, it is situated 560 metres above sea level on the Deccan plateau at the confluence of the Mula ...
,
India
India
India , officially the Republic of India , is a country in South Asia. It is the seventh-largest country by geographical area, the second-most populous country with over 1.2 billion people, and the most populous democracy in the world...
was a
Hindutva
Hindutva
Hindutva is the term used to describe movements advocating Hindu nationalism. Members of the movement are called Hindutvavādis.In India, an umbrella organization called the Sangh Parivar champions the concept of Hindutva...
activist and journalist, who was the assassin of
Mahatma Gandhi
Mahatma Gandhi
Mohandas Karamchand Gandhi , pronounced . 2 October 1869 – 30 January 1948) was the pre-eminent political and ideological leader of India during the Indian independence movement...
. Along with his brother
Gopal Godse
Gopal Godse
Gopal Vinayak Godse , was the brother of Nathuram Godse and one of the conspirators in the assassination of Mahatma Gandhi on January 30, 1948. He was the last one to survive and lived his last days in Pune, Maharashtra, India....
and six other co-conspirators, he executed a plot to assassinate Gandhi.
Nathuram Godse was born in
Baramati
Baramati
Baramati is a city and a municipal council in Pune district in the state of Maharashtra, India.Agriculture is the main occupation of the people of Baramati. The main food crops grown include sugarcane, grapes, and cotton...
,
Pune District
Pune District
Pune District is situated in Maharashtra state of India. Pune city is the district headquarters. In the last census on 2001, the total population of the district was 7,232,555, making it the fourth most populous district in India . Urban population comprises 58.08% of the total population...
in a
Chitpavan
Chitpavan
The Chitpavan or Chitpawan, also known as Konkanastha Brahmins , are a Smarta Brahmin community of Konkan, the coastal region of western Maharashtra in India....
Brahmin
Brahmin
Brahmin Brahman, Brahma and Brahmin.Brahman, Brahmin and Brahma have different meanings. Brahman refers to the Supreme Self...
family. His father, Vinayak Vamanrao Godse, was a post office employee and his mother was Lakshmii (née Godavari).