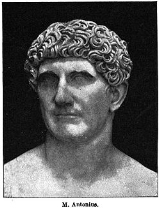 Mark Antony
Marcus Antonius
(January 14, 83 BC – August 1, 30 BC), known in
English
English language
English is a West Germanic language that arose in the Anglo-Saxon kingdoms of England and spread into what was to become south-east Scotland under the influence of the Anglian medieval kingdom of Northumbria...
as
Mark Antony
, was a
Roman
Roman Republic
The Roman Republic was the period of the ancient Roman civilization where the government operated as a republic. It began with the overthrow of the Roman monarchy, traditionally dated around 508 BC, and its replacement by a government headed by two consuls, elected annually by the citizens and...
politician
Politician
A politician, political leader, or political figure is an individual who is involved in influencing public policy and decision making...
and
general
General
A general officer is an officer of high military rank, usually in the army, and in some nations, the air force. The term is widely used by many nations of the world, and when a country uses a different term, there is an equivalent title given....
. As a military commander and administrator, he was an important supporter and loyal friend of his mother's cousin
Julius Caesar
Julius Caesar
Gaius Julius Caesar was a Roman general and statesman and a distinguished writer of Latin prose. He played a critical role in the gradual transformation of the Roman Republic into the Roman Empire....
. After
Caesar's assassination
Assassination of Julius Caesar
The assassination of Julius Caesar was the result of a conspiracy by approximately forty Roman senators who called themselves Liberators. Led by Gaius Cassius Longinus and Marcus Junius Brutus, they stabbed Julius Caesar to death in the Theatre of Pompey on the Ides of March 44 BC...
, Antony formed an official political alliance with Octavian (the future
Augustus
Augustus
Augustus ;23 September 63 BC – 19 August AD 14) is considered the first emperor of the Roman Empire, which he ruled alone from 27 BC until his death in 14 AD.The dates of his rule are contemporary dates; Augustus lived under two calendars, the Roman Republican until 45 BC, and the Julian...
) and
Lepidus
Marcus Aemilius Lepidus (triumvir)
Marcus Aemilius Lepidus , was a Roman patrician who rose to become a member of the Second Triumvirate and Pontifex Maximus. His father, Marcus Aemilius Lepidus, had been involved in a rebellion against the Roman Republic.Lepidus was among Julius Caesar's greatest supporters...
, known to historians today as the
Second Triumvirate
Second Triumvirate
The Second Triumvirate is the name historians give to the official political alliance of Octavius , Marcus Aemilius Lepidus, and Mark Antony, formed on 26 November 43 BC with the enactment of the Lex Titia, the adoption of which marked the end of the Roman Republic...
.
The
triumvirate
Triumvirate
A triumvirate is a political regime dominated by three powerful individuals, each a triumvir . The arrangement can be formal or informal, and though the three are usually equal on paper, in reality this is rarely the case...
broke up in 33 BC.