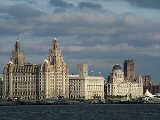 Liverpool
Liverpool
is a city and
metropolitan borough
Metropolitan borough
A metropolitan borough is a type of local government district in England, and is a subdivision of a metropolitan county. Created in 1974 by the Local Government Act 1972, metropolitan boroughs are defined in English law as metropolitan districts, however all of them have been granted or regranted...
of
Merseyside
Merseyside
Merseyside is a metropolitan county in North West England, with a population of 1,365,900. It encompasses the metropolitan area centred on both banks of the lower reaches of the Mersey Estuary, and comprises five metropolitan boroughs: Knowsley, St Helens, Sefton, Wirral, and the city of Liverpool...
, England, along the eastern side of the Mersey Estuary. It was founded as a
borough
Borough status in the United Kingdom
Borough status in the United Kingdom is granted by royal charter to local government districts in England, Wales and Northern Ireland. The status is purely honorary, and does not give any additional powers to the council or inhabitants of the district...
in 1207 and was granted
city status
City status in the United Kingdom
City status in the United Kingdom is granted by the British monarch to a select group of communities. The holding of city status gives a settlement no special rights other than that of calling itself a "city". Nonetheless, this appellation carries its own prestige and, consequently, competitions...
in 1880. As of 2001 Liverpool had a population of 435,500, and lies at the centre of the wider
Liverpool Urban Area
Liverpool Urban Area
The "Liverpool Urban Area" is a term used by the Office for National Statistics to denote the urban area around Liverpool in England, to the east of the River Mersey. The contiguous built-up area extends beyond the area administered by Liverpool City Council into adjoining local authority areas,...
, which had a population of 816,216.
Historically
Historic counties of England
The historic counties of England are subdivisions of England established for administration by the Normans and in most cases based on earlier Anglo-Saxon kingdoms and shires...
a part of
Lancashire
Lancashire
Lancashire is a non-metropolitan county of historic origin in the North West of England. It takes its name from the city of Lancaster, and is sometimes known as the County of Lancaster. Although Lancaster is still considered to be the county town, Lancashire County Council is based in Preston...
, the urbanisation and expansion of Liverpool were both largely brought about by the city's status as a major
port
Port of Liverpool
The Port of Liverpool is the name for the enclosed 7.5 mile dock system that runs from Brunswick Dock in Liverpool to Seaforth Dock, Seaforth, on the east side of the River Mersey and the Birkenhead Docks between Birkenhead and Wallasey on the west side of the river...
.