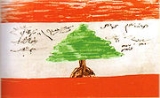 Lebanese Civil War
The
Lebanese Civil War
was a multifaceted
civil war
Civil war
A civil war is a war between organized groups within the same nation state or republic, or, less commonly, between two countries created from a formerly-united nation state....
in
Lebanon
Lebanon
Lebanon , officially the Republic of LebanonRepublic of Lebanon is the most common term used by Lebanese government agencies. The term Lebanese Republic, a literal translation of the official Arabic and French names that is not used in today's world. Arabic is the most common language spoken among...
. The war lasted from 1975 to 1990 and resulted in an estimated 150,000 to 230,000 civilian fatalities. Another one million people (a quarter of the population) were wounded, and today approximately 350,000 people remain displaced. There was also a mass
exodus
Emigration
Emigration is the act of leaving one's country or region to settle in another. It is the same as immigration but from the perspective of the country of origin. Human movement before the establishment of political boundaries or within one state is termed migration. There are many reasons why people...
of almost one million people from Lebanon. The Post-war occupation of the country by
Syria
Syria
Syria , officially the Syrian Arab Republic , is a country in Western Asia, bordering Lebanon and the Mediterranean Sea to the West, Turkey to the north, Iraq to the east, Jordan to the south, and Israel to the southwest....
was particularly politically disadvantageous to the Christian population as most of their leadership was driven into
exile
Exile
Exile means to be away from one's home , while either being explicitly refused permission to return and/or being threatened with imprisonment or death upon return...
, or had been assassinated or
jail
Jail
A jail is a short-term detention facility in the United States and Canada.Jail may also refer to:In entertainment:*Jail , a 1966 Malayalam movie*Jail , a 2009 Bollywood movie...
ed.
There is no consensus among scholars and researchers on what triggered the Lebanese Civil War.