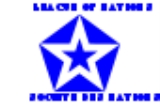 League of Nations
The
League of Nations
was an intergovernmental organization founded as a result of the
Paris Peace Conference
Paris Peace Conference, 1919
The Paris Peace Conference was the meeting of the Allied victors following the end of World War I to set the peace terms for the defeated Central Powers following the armistices of 1918. It took place in Paris in 1919 and involved diplomats from more than 32 countries and nationalities...
that ended the
First World War
World War I
World War I , which was predominantly called the World War or the Great War from its occurrence until 1939, and the First World War or World War I thereafter, was a major war centred in Europe that began on 28 July 1914 and lasted until 11 November 1918...
. It was the first permanent international organization whose principal mission was to maintain world peace. Its primary goals, as stated in its
Covenant
Covenant of the League of Nations
-Creation:Early drafts for a possible League of Nations began even before the end of the First World War. A London-based study group led by James Bryce and G. Lowes Dickinson made proposals adopted by the British League of Nations Society, founded in 1915. Another group in the United States—which...
, included preventing war through
collective security
Collective security
Collective security can be understood as a security arrangement, regional or global, in which each state in the system accepts that the security of one is the concern of all, and agrees to join in a collective response to threats to, and breaches of, the peace...
and
disarmament
Arms control
Arms control is an umbrella term for restrictions upon the development, production, stockpiling, proliferation, and usage of weapons, especially weapons of mass destruction...
, and settling international disputes through negotiation and
arbitration
Arbitration
Arbitration, a form of alternative dispute resolution , is a legal technique for the resolution of disputes outside the courts, where the parties to a dispute refer it to one or more persons , by whose decision they agree to be bound...
. Other issues in this and related treaties included labour conditions, just treatment of native inhabitants, human and drug trafficking, arms trade, global health, prisoners of war, and protection of minorities in Europe.
1919 The League of Nations is founded.
1920 The League of Nations holds its first meeting, and ratifies the Treaty of Versailles, therefore ending World War I.
1920 The United States Senate votes against joining the League of Nations.
1920 First assembly of the League of Nations is held in Geneva.
1922 The League of Nations awards mandates of Togoland to France and Tanganyika to the United Kingdom.
1922 Hungary is admitted to League of Nations.
1924 The Geneva Protocol is adopted as a means to strengthen the League of Nations.
1926 Brazil leaves the League of Nations
1926 Germany is admitted to the League of Nations.
1933 Germany withdraws from the League of Nations.