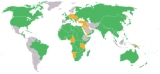 Paris Peace Conference, 1919
The
Paris Peace Conference
was the meeting of the
Allied victors
Allies of World War I
The Entente Powers were the countries at war with the Central Powers during World War I. The members of the Triple Entente were the United Kingdom, France, and the Russian Empire; Italy entered the war on their side in 1915...
following the end of
World War I
World War I
World War I , which was predominantly called the World War or the Great War from its occurrence until 1939, and the First World War or World War I thereafter, was a major war centred in Europe that began on 28 July 1914 and lasted until 11 November 1918...
to set the peace terms for the defeated
Central Powers
Central Powers
The Central Powers were one of the two warring factions in World War I , composed of the German Empire, the Austro-Hungarian Empire, the Ottoman Empire, and the Kingdom of Bulgaria...
following the armistices of 1918. It took place in Paris in 1919 and involved diplomats from more than 32 countries and nationalities. They met, discussed various options and developed a series of treaties ("Paris Peace Treaties") for the post-war world. These treaties reshaped the map of Europe with new borders and countries, and imposed war guilt and stiff
financial penalties
War reparations
War reparations are payments intended to cover damage or injury during a war. Generally, the term war reparations refers to money or goods changing hands, rather than such property transfers as the annexation of land.- History :...
on
Germany
German Empire
The German Empire refers to Germany during the "Second Reich" period from the unification of Germany and proclamation of Wilhelm I as German Emperor on 18 January 1871, to 1918, when it became a federal republic after defeat in World War I and the abdication of the Emperor, Wilhelm II.The German...
.