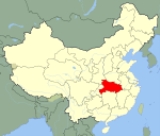 Hubei
is a province in Central China. The name of the province means "north of the lake", referring to its position north of Lake Dongting. The provincial capital is
Wuhan
Wuhan
Wuhan is the capital of Hubei province, People's Republic of China, and is the most populous city in Central China. It lies at the east of the Jianghan Plain, and the intersection of the middle reaches of the Yangtze and Han rivers...
.
Hubei is officially abbreviated to "鄂" (
È
), an ancient name associated with the eastern part of the province since the
Qin dynasty
Qin Dynasty
The Qin Dynasty was the first imperial dynasty of China, lasting from 221 to 207 BC. The Qin state derived its name from its heartland of Qin, in modern-day Shaanxi. The strength of the Qin state was greatly increased by the legalist reforms of Shang Yang in the 4th century BC, during the Warring...
, while a popular name for Hubei is "楚" (
Chǔ
), after the powerful state of Chu that existed here during the Eastern Zhou dynasty.