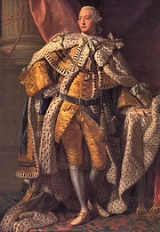 George III of the United Kingdom
George III
was
King
of
Great Britain
Kingdom of Great Britain
The former Kingdom of Great Britain, sometimes described as the 'United Kingdom of Great Britain', That the Two Kingdoms of Scotland and England, shall upon the 1st May next ensuing the date hereof, and forever after, be United into One Kingdom by the Name of GREAT BRITAIN. was a sovereign...
and
King
of
Ireland
Kingdom of Ireland
The Kingdom of Ireland refers to the country of Ireland in the period between the proclamation of Henry VIII as King of Ireland by the Crown of Ireland Act 1542 and the Act of Union in 1800. It replaced the Lordship of Ireland, which had been created in 1171...
from 25 October 1760 until the union of these two countries on 1 January 1801, after which he was King of the
United Kingdom of Great Britain and Ireland
United Kingdom of Great Britain and Ireland
The United Kingdom of Great Britain and Ireland was the formal name of the United Kingdom during the period when what is now the Republic of Ireland formed a part of it....
until his death. He was concurrently Duke and
prince-elector
Prince-elector
The Prince-electors of the Holy Roman Empire were the members of the electoral college of the Holy Roman Empire, having the function of electing the Roman king or, from the middle of the 16th century onwards, directly the Holy Roman Emperor.The heir-apparent to a prince-elector was known as an...
of Brunswick-Lüneburg ("Hanover") in the
Holy Roman Empire
Holy Roman Empire
The Holy Roman Empire was a realm that existed from 962 to 1806 in Central Europe.It was ruled by the Holy Roman Emperor. Its character changed during the Middle Ages and the Early Modern period, when the power of the emperor gradually weakened in favour of the princes...
until his promotion to King of Hanover on 12 October 1814.
1760 George III becomes King of Great Britain.
1761 Marriage of King George III of the United Kingdom to Duchess Charlotte of Mecklenburg-Strelitz.
1761 George III and Charlotte of Mecklenburg-Strelitz are crowned King and Queen, respectively, of the Kingdom of Great Britain.
1763 George III of Great Britain issues British Royal Proclamation of 1763, closing aboriginal lands in North America north and west of Alleghenies to white settlements.
1768 John Wilkes is imprisoned for writing an article for ''The North Briton'' severely criticizing King George III. This action provokes rioting in London.
1768 James Otis, Jr. offends the King and Parliament in a speech to the Massachusetts General Court.
1775 King George III declares that the American colonies exist in a state of open and avowed rebellion.
1819 British explorer William Smith discovers the South Shetland Islands, and claims them in the name of King George III.
1896 Queen Victoria surpasses her grandfather King George III as the longest reigning monarch in British history.
I wish nothing but good; therefore, everyone who does not agree with me is a traitor and a scoundrel.