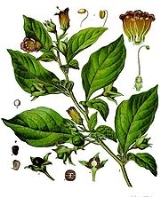 Deadly nightshade
Atropa belladonna
or
Atropa bella-donna
, commonly known as
Belladonna
,
Devil's Berries
,
Death Cherries
or
Deadly Nightshade
, is a
perennial
Perennial plant
A perennial plant or simply perennial is a plant that lives for more than two years. The term is often used to differentiate a plant from shorter lived annuals and biennials. The term is sometimes misused by commercial gardeners or horticulturalists to describe only herbaceous perennials...
herbaceous plant
Herbaceous plant
A herbaceous plant is a plant that has leaves and stems that die down at the end of the growing season to the soil level. They have no persistent woody stem above ground...
in the family
Solanaceae
Solanaceae
Solanaceae are a family of flowering plants that include a number of important agricultural crops as well as many toxic plants. The name of the family comes from the Latin Solanum "the nightshade plant", but the further etymology of that word is unclear...
, native to
Europe
Europe
Europe is, by convention, one of the world's seven continents. Comprising the westernmost peninsula of Eurasia, Europe is generally 'divided' from Asia to its east by the watershed divides of the Ural and Caucasus Mountains, the Ural River, the Caspian and Black Seas, and the waterways connecting...
,
North Africa
North Africa
North Africa or Northern Africa is the northernmost region of the African continent, linked by the Sahara to Sub-Saharan Africa. Geopolitically, the United Nations definition of Northern Africa includes eight countries or territories; Algeria, Egypt, Libya, Morocco, South Sudan, Sudan, Tunisia, and...
, and Western Asia. The foliage and berries are extremely
toxic
Toxin
A toxin is a poisonous substance produced within living cells or organisms; man-made substances created by artificial processes are thus excluded...
, containing tropane alkaloids. These toxins include
scopolamine
Scopolamine
Scopolamine, also known as levo-duboisine, and hyoscine, is a tropane alkaloid drug with muscarinic antagonist effects. It is among the secondary metabolites of plants from Solanaceae family of plants, such as henbane, jimson weed and Angel's Trumpets , and corkwood...
and
hyoscyamine
Hyoscyamine
Hyoscyamine is a tropane alkaloid. It is a secondary metabolite found in certain plants of the Solanaceae family, including henbane , mandrake , jimsonweed , tomato and deadly nightshade...
which cause a bizarre
delirium
Delirium
Delirium or acute confusional state is a common and severe neuropsychiatric syndrome with core features of acute onset and fluctuating course, attentional deficits and generalized severe disorganization of behavior...
and
hallucination
Hallucination
A hallucination, in the broadest sense of the word, is a perception in the absence of a stimulus. In a stricter sense, hallucinations are defined as perceptions in a conscious and awake state in the absence of external stimuli which have qualities of real perception, in that they are vivid,...
s, and are also used as pharmaceutical
anticholinergic
Anticholinergic
An anticholinergic agent is a substance that blocks the neurotransmitter acetylcholine in the central and the peripheral nervous system. An example of an anticholinergic is dicycloverine, and the classic example is atropine....
s.