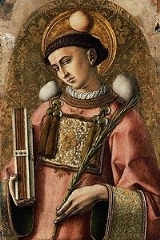 Deacon
Deacon
is a ministry in the
Christian Church
Christianity
Christianity is a monotheistic religion based on the life and teachings of Jesus as presented in canonical gospels and other New Testament writings...
that is generally associated with service of some kind, but which varies among theological and denominational traditions. In many traditions the "diaconate", the term for a deacon's office, is a
clerical
Clergy
Clergy is the generic term used to describe the formal religious leadership within a given religion. A clergyman, churchman or cleric is a member of the clergy, especially one who is a priest, preacher, pastor, or other religious professional....
office; in others it is for
laity
Laity
In religious organizations, the laity comprises all people who are not in the clergy. A person who is a member of a religious order who is not ordained legitimate clergy is considered as a member of the laity, even though they are members of a religious order .In the past in Christian cultures, the...
.
The word "deacon" is derived from the Greek word diakonos (διάκονος), which is a standard
ancient Greek
Ancient Greek
Ancient Greek is the stage of the Greek language in the periods spanning the times c. 9th–6th centuries BC, , c. 5th–4th centuries BC , and the c. 3rd century BC – 6th century AD of ancient Greece and the ancient world; being predated in the 2nd millennium BC by Mycenaean Greek...
word meaning "servant", "waiting-man," "minister" or "messenger." One commonly promulgated speculation as to its etymology is that it literally means 'through the dust', referring to the dust raised by the busy servant or messenger.
It is generally believed that the office of deacon originated in the selection of seven men, among them
Stephen
Saint Stephen
Saint Stephen The Protomartyr , the protomartyr of Christianity, is venerated as a saint in the Roman Catholic, Anglican, Lutheran, Oriental Orthodox and Eastern Orthodox Churches....
, to assist with the charitable work of the early church as recorded in .