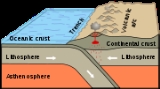 Convergent boundary
In
plate tectonics
Plate tectonics
Plate tectonics is a scientific theory that describes the large scale motions of Earth's lithosphere...
, a
convergent boundary
, also known as a
destructive plate boundary
(because of
subduction
Subduction
In geology, subduction is the process that takes place at convergent boundaries by which one tectonic plate moves under another tectonic plate, sinking into the Earth's mantle, as the plates converge. These 3D regions of mantle downwellings are known as "Subduction Zones"...
), is an actively deforming region where two (or more) tectonic plates or fragments of
lithosphere
Lithosphere
The lithosphere is the rigid outermost shell of a rocky planet. On Earth, it comprises the crust and the portion of the upper mantle that behaves elastically on time scales of thousands of years or greater.- Earth's lithosphere :...
move toward one another and collide. As a result of pressure, friction, and plate material melting in the
mantle
Mantle (geology)
The mantle is a part of a terrestrial planet or other rocky body large enough to have differentiation by density. The interior of the Earth, similar to the other terrestrial planets, is chemically divided into layers. The mantle is a highly viscous layer between the crust and the outer core....
, earthquakes and
volcano
Volcano
2. Bedrock3. Conduit 4. Base5. Sill6. Dike7. Layers of ash emitted by the volcano8. Flank| 9. Layers of lava emitted by the volcano10. Throat11. Parasitic cone12. Lava flow13. Vent14. Crater15...
es are common near convergent boundaries. When two plates move towards one another, they form either a subduction zone or a
continental collision
Continental collision
Continental collision is a phenomenon of the plate tectonics of Earth that occurs at convergent boundaries. Continental collision is a variation on the fundamental process of subduction, whereby the subduction zone is destroyed, mountains produced, and two continents sutured together...
.