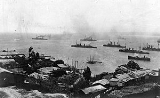 Battle of Coronel
The
First World War
World War I
World War I , which was predominantly called the World War or the Great War from its occurrence until 1939, and the First World War or World War I thereafter, was a major war centred in Europe that began on 28 July 1914 and lasted until 11 November 1918...
naval
Battle of Coronel
took place on 1 November 1914 off the coast of central
Chile
Chile
Chile ,officially the Republic of Chile , is a country in South America occupying a long, narrow coastal strip between the Andes mountains to the east and the Pacific Ocean to the west. It borders Peru to the north, Bolivia to the northeast, Argentina to the east, and the Drake Passage in the far...
near the city of Coronel. German
Kaiserliche Marine
Kaiserliche Marine
The Imperial German Navy was the German Navy created at the time of the formation of the German Empire. It existed between 1871 and 1919, growing out of the small Prussian Navy and Norddeutsche Bundesmarine, which primarily had the mission of coastal defense. Kaiser Wilhelm II greatly expanded...
forces led by Vice-Admiral
Graf Maximilian von Spee
Maximilian von Spee
Vice Admiral Maximilian Reichsgraf von Spee was a German admiral. Although he was born in Copenhagen, Denmark, the counts von Spee belonged to the prominent families of the Rhenish nobility. He joined the Kaiserliche Marine in 1878. In 1887–88 he commanded the Kamerun ports, in German West...
met and defeated a
Royal Navy
Royal Navy
The Royal Navy is the naval warfare service branch of the British Armed Forces. Founded in the 16th century, it is the oldest service branch and is known as the Senior Service...
squadron commanded by Rear-Admiral Sir
Christopher Cradock
Christopher Cradock
Rear-Admiral Sir Christopher "Kit" George Francis Maurice Cradock KCVO CB was a British officer of the Royal Navy. He was born at Hartforth, Richmond, North Yorkshire...
.
The engagement probably took place as a result of a series of misunderstandings. Neither admiral expected to meet the other in full force. Once the two met, Cradock understood his orders were to fight to the end, despite the odds heavily against him.