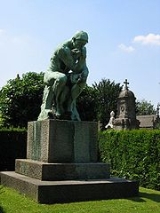 Psychology
Psychology is the study of the
mind
Mind
The concept of mind is understood in many different ways by many different traditions, ranging from panpsychism and animism to traditional and organized religious views, as well as secular and materialist philosophies. Most agree that minds are constituted by conscious experience and intelligent...
and behavior. Its immediate goal is to understand individuals and groups by both establishing general principles and researching specific cases. For many, the ultimate goal of psychology is to benefit society. In this field, a professional
practitioner
Practitioner
A practitioner is someone who engages in an occupation, profession, religion, or way of life.Practitioner may refer to:* Medical practitioner* Justice practitioner* Solitary practitioner, in Wicca and Paganism...
or researcher is called a
psychologist
Psychologist
Psychologist is a professional or academic title used by individuals who are either:* Clinical professionals who work with patients in a variety of therapeutic contexts .* Scientists conducting psychological research or teaching psychology in a college...
, and can be classified as a
social scientist
Social Scientist
Social Scientist is a New Delhi based journal in social sciences and humanities published since 1972....
, behavioral scientist, or cognitive scientist. Psychologists attempt to understand the role of
mental function
Mental function
Mental processes, mental functions and cognitive processes are terms often used interchangeably to mean such functions or processes as perception, introspection, memory, creativity, imagination, conception, belief, reasoning, volition, and emotion—in...
s in individual and
social behavior
Social behavior
In physics, physiology and sociology, social behavior is behavior directed towards society, or taking place between, members of the same species. Behavior such as predation which involves members of different species is not social...
, while also exploring the physiological and
neurobiological
Neuroscience
Neuroscience is the scientific study of the nervous system. Traditionally, neuroscience has been seen as a branch of biology. However, it is currently an interdisciplinary science that collaborates with other fields such as chemistry, computer science, engineering, linguistics, mathematics,...
processes that underlie certain functions and behaviors.
Psychologists explore such concepts as
perception
Perception
Perception is the process of attaining awareness or understanding of the environment by organizing and interpreting sensory information. All perception involves signals in the nervous system, which in turn result from physical stimulation of the sense organs...
,
cognition
Cognition
In science, cognition refers to mental processes. These processes include attention, remembering, producing and understanding language, solving problems, and making decisions. Cognition is studied in various disciplines such as psychology, philosophy, linguistics, and computer science...
,
attention
Attention
Attention is the cognitive process of paying attention to one aspect of the environment while ignoring others. Attention is one of the most intensely studied topics within psychology and cognitive neuroscience....
,
emotion
Emotion
Emotion is a complex psychophysiological experience of an individual's state of mind as interacting with biochemical and environmental influences. In humans, emotion fundamentally involves "physiological arousal, expressive behaviors, and conscious experience." Emotion is associated with mood,...
,
phenomenology
Phenomenology (psychology)
Phenomenology is an approach to psychological subject matter that has its roots in the philosophical work of Edmund Husserl. Early phenomenologists such as Husserl, Jean-Paul Sartre, and Maurice Merleau-Ponty conducted their own psychological investigations in the early 20th century...
,
motivation
Motivation
Motivation is the driving force by which humans achieve their goals. Motivation is said to be intrinsic or extrinsic. The term is generally used for humans but it can also be used to describe the causes for animal behavior as well. This article refers to human motivation...
, brain functioning,
personality
Personality psychology
Personality psychology is a branch of psychology that studies personality and individual differences. Its areas of focus include:* Constructing a coherent picture of the individual and his or her major psychological processes...
,
behavior
Behavior
Behavior or behaviour refers to the actions and mannerisms made by organisms, systems, or artificial entities in conjunction with its environment, which includes the other systems or organisms around as well as the physical environment...
, and
interpersonal relationships
Interpersonal relationship
An interpersonal relationship is an association between two or more people that may range from fleeting to enduring. This association may be based on limerence, love, solidarity, regular business interactions, or some other type of social commitment. Interpersonal relationships are formed in the...
.