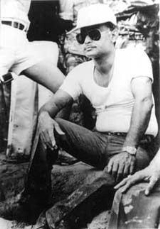 Ziaur Rahman
President
President
A president is a leader of an organization, company, trade union, university, or country.Etymologically, a president is one who presides, who sits in leadership...
Ziaur Rahman
, Bir Uttam, (
Ji-yaur Rôhman
) (January 19, 1936 – May 30, 1981) was a Bangladeshi politician and general, who read the declaration of Independence of
Bangladesh
Bangladesh
Bangladesh , officially the People's Republic of Bangladesh is a sovereign state located in South Asia. It is bordered by India on all sides except for a small border with Burma to the far southeast and by the Bay of Bengal to the south...
on March 26, 1971 on behalf of Sheikh Mujibur Rahman. He later became the seventh President of Bangladesh from 1977 until 1981. A highly decorated and accomplished military officer, he retired from the
Bangladesh Army
Bangladesh Army
The Bangladesh Army is the land forces branch and the largest of the three uniformed service of the Bangladesh Armed Forces. The primary mission of the Army is to provide necessary forces and capabilities in support of Bangladesh's security and defense strategies including defense of the nation's...
as a
Lieutenant General
Lieutenant General
Lieutenant General is a military rank used in many countries. The rank traces its origins to the Middle Ages where the title of Lieutenant General was held by the second in command on the battlefield, who was normally subordinate to a Captain General....
.