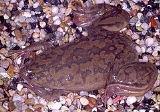 Xenopus
Xenopus
is a genus of highly aquatic frogs native to Sub-Saharan
Africa
Africa
Africa is the world's second largest and second most populous continent, after Asia. At about 30.2 million km² including adjacent islands, it covers 6% of the Earth's total surface area and 20.4% of the total land area...
. There are 19 species in the Xenopus genus. They are known collectively as African Clawed Frogs or Platanna.
The best-known species belonging to this genus is Xenopus laevis, which is commonly studied as a
model organism
Model organism
A model organism is a non-human species that is extensively studied to understand particular biological phenomena, with the expectation that discoveries made in the organism model will provide insight into the workings of other organisms. Model organisms are in vivo models and are widely used to...
.
All species of Xenopus have flattened, somewhat egg-shaped and streamlined bodies, as well as very slippery skin (because of a protective mucous covering).