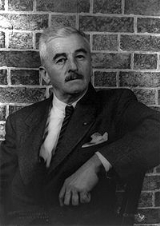 William Faulkner
William Cuthbert Faulkner
(born
Falkner
, September 25, 1897 – July 6, 1962) was an American writer from
Oxford
Oxford, Mississippi
Oxford is a city in, and the county seat of, Lafayette County, Mississippi, United States. Founded in 1835, it was named after the British university city of Oxford in hopes of having the state university located there, which it did successfully attract....
,
Mississippi
Mississippi
Mississippi is a U.S. state located in the Southern United States. Jackson is the state capital and largest city. The name of the state derives from the Mississippi River, which flows along its western boundary, whose name comes from the Ojibwe word misi-ziibi...
. Faulkner worked in a variety of media; he wrote
novel
Novel
A novel is a book of long narrative in literary prose. The genre has historical roots both in the fields of the medieval and early modern romance and in the tradition of the novella. The latter supplied the present generic term in the late 18th century....
s,
short stories
Short story
A short story is a work of fiction that is usually written in prose, often in narrative format. This format tends to be more pointed than longer works of fiction, such as novellas and novels. Short story definitions based on length differ somewhat, even among professional writers, in part because...
, a play,
poetry
Poetry
Poetry is a form of literary art in which language is used for its aesthetic and evocative qualities in addition to, or in lieu of, its apparent meaning...
, essays and
screenplay
Screenplay
A screenplay or script is a written work that is made especially for a film or television program. Screenplays can be original works or adaptations from existing pieces of writing. In them, the movement, actions, expression, and dialogues of the characters are also narrated...
s during his career. He is primarily known and acclaimed for his novels and short stories, many of which are set in the fictional
Yoknapatawpha County
Yoknapatawpha County
Yoknapatawpha County is a fictional county created by the American author William Faulkner, based upon and inspired by Lafayette County, Mississippi and its county seat of Oxford, Mississippi...
, a setting Faulkner created based on
Lafayette County
Lafayette County, Mississippi
-Demographics:As of the census of 2000, there were 38,744 people, 14,373 households, and 8,321 families residing in the county. The population density was 61 people per square mile . There were 16,587 housing units at an average density of 26 per square mile...
, where he spent most of his childhood.
Faulkner is considered one of the most important writers of the
Southern literature
Southern literature
Southern literature is defined as American literature about the Southern United States or by writers from this region...
of the United States, along with
Mark Twain
Mark Twain
Samuel Langhorne Clemens , better known by his pen name Mark Twain, was an American author and humorist...
,
Robert Penn Warren
Robert Penn Warren
Robert Penn Warren was an American poet, novelist, and literary critic and was one of the founders of New Criticism. He was also a charter member of the Fellowship of Southern Writers. He founded the influential literary journal The Southern Review with Cleanth Brooks in 1935...
,
Flannery O'Connor
Flannery O'Connor
Mary Flannery O'Connor was an American novelist, short-story writer and essayist. An important voice in American literature, O'Connor wrote two novels and 32 short stories, as well as a number of reviews and commentaries...
,
Truman Capote
Truman Capote
Truman Streckfus Persons , known as Truman Capote , was an American author, many of whose short stories, novels, plays, and nonfiction are recognized literary classics, including the novella Breakfast at Tiffany's and the true crime novel In Cold Blood , which he labeled a "nonfiction novel." At...
,
Eudora Welty
Eudora Welty
Eudora Alice Welty was an American author of short stories and novels about the American South. Her novel The Optimist's Daughter won the Pulitzer Prize in 1973. Welty was awarded the Presidential Medal of Freedom, among numerous awards. She was the first living author to have her works published...
,
Thomas Wolfe
Thomas Wolfe
Thomas Clayton Wolfe was a major American novelist of the early 20th century.Wolfe wrote four lengthy novels, plus many short stories, dramatic works and novellas. He is known for mixing highly original, poetic, rhapsodic, and impressionistic prose with autobiographical writing...
,
Harper Lee
Harper Lee
Nelle Harper Lee is an American author known for her 1960 Pulitzer-Prize-winning novel To Kill a Mockingbird, which deals with the issues of racism that were observed by the author as a child in her hometown of Monroeville, Alabama...
and
Tennessee Williams
Tennessee Williams
Thomas Lanier "Tennessee" Williams III was an American writer who worked principally as a playwright in the American theater. He also wrote short stories, novels, poetry, essays, screenplays and a volume of memoirs...
.
Man knows so little about his fellows. In his eyes all men or women act upon what he believes would motivate him if he were mad enough to do what the other man or women is doing.

Light in August|Light in August (1932), Ch. 2
Poor man. Poor mankind.

Light in August (1932), Ch. 4
Even a liar can be scared into telling the truth, same as an honest man can be tortured into telling a lie.

Light in August (1932), Ch. 4
Between grief and nothing I will take grief.

The Wild Palms (1939)
Be scared. You can't help that. But don't be afraid. Ain't nothing in the woods going to hurt you unless you corner it, or it smells that you are afraid. A bear or a deer, too, has got to be scared of a coward the same as a brave man has got to be.

"The Bear" in The Saturday Evening Post (9 May 1942)