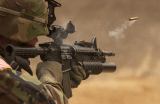 War
War
is a state of organized, armed, and often prolonged conflict carried on between
states
State (polity)
A state is an organized political community, living under a government. States may be sovereign and may enjoy a monopoly on the legal initiation of force and are not dependent on, or subject to any other power or state. Many states are federated states which participate in a federal union...
,
nation
Nation
A nation may refer to a community of people who share a common language, culture, ethnicity, descent, and/or history. In this definition, a nation has no physical borders. However, it can also refer to people who share a common territory and government irrespective of their ethnic make-up...
s, or other parties typified by extreme
aggression
Aggression
In psychology, as well as other social and behavioral sciences, aggression refers to behavior between members of the same species that is intended to cause humiliation, pain, or harm. Ferguson and Beaver defined aggressive behavior as "Behavior which is intended to increase the social dominance of...
,
social
Social
The term social refers to a characteristic of living organisms...
disruption, and usually high mortality. War should be understood as an actual, intentional and widespread armed conflict between political communities, and therefore is defined as a form of
political violence
Political violence
Political violence is a common means used by people and governments around the world to achieve political goals. Many groups and individuals believe that their political systems will never respond to their political demands. As a result they believe that violence is not only justified but also...
. The set of techniques used by a group to carry out war is known as
warfare
.
War is not a pathology that, with proper hygiene and treatment, can be wholly prevented. War is a natural condition of the State, which was organized in order to be an effective instrument of violence on behalf of society. Wars are like deaths, which, while they can be postponed, will come when they will come and cannot be finally avoided.

Philip Bobbitt|Philip Bobbitt in The Shield of Achilles
War is a quarrel between two thieves too cowardly to fight their own battle; therefore they take boys from one village and another village, stick them into uniforms, equip them with guns, and let them loose like wild beasts against each other.

Thomas Carlyle, as quoted by Emma Goldman in her essay, "Patriotism: A Menace to Liberty", chapter five of Anarchism and Other Essays (2nd revised edition, 1911)
War will never yield but to the principles of universal justice and love, and these have no sure root but in the religion of Jesus Christ.

William Ellery Channing, reported in Josiah Hotchkiss Gilbert, Dictionary of Burning Words of Brilliant Writers (1895), p. 614.
War is fought by human beings.

Carl von Clausewitz in On War
War is a continuation of politics by other means.

Carl von Clausewitz in On War
To jaw-jaw is better than to war-war.

Winston Churchill, The New York Times (27 June 1954)