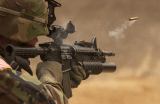 War
noun
(1)
A concerted campaign to end something that is injurious
"The war on poverty"
"The war against crime"
(2)
The waging of armed conflict against an enemy
"Thousands of people were killed in the war"
(3)
An active struggle between competing entities
"A price war"
"A war of wits"
"Diplomatic warfare"
(4)
A legal state created by a declaration of war and ended by official declaration during which the international rules of war apply
"War was declared in November but actual fighting did not begin until the following spring"
verb
(5) Make or wage war
English
Etymology
Late , , from Northern ( = ), of origin (unattested }), from , ultimately from . Akin to
werra
"confusion, strife, quarrel", , &
verri
"worse" (originally "confounded, mixed up")
Noun
A conflict involving the organized use of arms and physical force between countries or other large-scale armed groups. The warring parties hold territory, which they can win or lose; and each has a leading person or organization which can surrender, or collapse, thus ending the war.
By extension, any conflict, or anything resembling a conflict.
A campaign against something. E.g., the war on drugs is a campaign against the use of narcotic drugs; the war on terror is a campaign against terrorist crime.
Verb
To engage in conflict with a foe.

His emotions war with his intellect, making him conflicted.