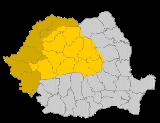 Transylvania
Transylvania
is a historical region in the central part of
Romania
Romania
Romania is a country located at the crossroads of Central and Southeastern Europe, on the Lower Danube, within and outside the Carpathian arch, bordering on the Black Sea...
. Bounded on the east and south by the
Carpathian mountain range
Carpathian Mountains
The Carpathian Mountains or Carpathians are a range of mountains forming an arc roughly long across Central and Eastern Europe, making them the second-longest mountain range in Europe...
, historical Transylvania extended in the west to the
Apuseni Mountains
Apuseni Mountains
The Apuseni Mountains is a mountain range in Transylvania, Romania, which belongs to the Western Carpathians, also called Occidentali in Romanian. Their name translates from Romanian as Mountains "of the sunset" i.e. "western". The highest peak is "Cucurbăta Mare" - 1849 metres, also called Bihor...
; however, the term sometimes encompasses not only Transylvania proper, but also the historical regions of
Crişana
Crisana
Crișana is a geographical and historical region divided today between Romania and Hungary, named after the Criș River and its three tributaries: the Crișul Alb, Crișul Negru and Crișul Repede....
,
Maramureş
Maramures
Maramureș may refer to the following:*Maramureș, a geographical, historical, and ethno-cultural region in present-day Romania and Ukraine, that occupies the Maramureș Depression and Maramureș Mountains, a mountain range in North East Carpathians...
, and
Romanian part of Banat
Banat
The Banat is a geographical and historical region in Central Europe currently divided between three countries: the eastern part lies in western Romania , the western part in northeastern Serbia , and a small...
.
Transylvania has been dominated by several different peoples and countries throughout its history. It was once the nucleus of the
Kingdom of Dacia
Dacia
In ancient geography, especially in Roman sources, Dacia was the land inhabited by the Dacians or Getae as they were known by the Greeks—the branch of the Thracians north of the Haemus range...
(82 BC–106 AD).