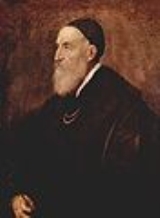 Titian
Tiziano Vecelli
or
Tiziano Vecellio
(c. 1488/1490 – 27 August 1576 better known as
Titian
(icon) was an Italian painter, the most important member of the 16th-century
Venetian school
Venetian school (art)
-Context:In the 15th century Venetian painting developed through influences from the Paduan School and Antonello da Messina, who introduced the oil painting technique of Early Netherlandish painting. It is typified by a warm colour scale and a picturesque use of colour...
. He was born in
Pieve di Cadore
Pieve di Cadore
Pieve di Cadore is a comune in the province of Belluno in the Italian region Veneto, located about 110 km north of Venice and about 35 km northeast of Belluno.The painter Titian was born here, c. 1485...
, near
Belluno
Belluno
Belluno , is a town and province in the Veneto region of northern Italy. Located about 100 kilometres north of Venice, Belluno is the capital of the province of Belluno and the most important city in the Eastern Dolomiti's region. With its roughly 37,000 inhabitants, it the largest populated area...
(in
Veneto
Veneto
Veneto is one of the 20 regions of Italy. Its population is about 5 million, ranking 5th in Italy.Veneto had been for more than a millennium an independent state, the Republic of Venice, until it was eventually annexed by Italy in 1866 after brief Austrian and French rule...
), in the
Republic of Venice
Republic of Venice
The Republic of Venice or Venetian Republic was a state originating from the city of Venice in Northeastern Italy. It existed for over a millennium, from the late 7th century until 1797. It was formally known as the Most Serene Republic of Venice and is often referred to as La Serenissima, in...
. During his lifetime he was often called
da Cadore
, taken from the place of his birth.
Recognized by his contemporaries as "The Sun Amidst Small Stars" (recalling the famous final line of
Dante's
DANTE
Delivery of Advanced Network Technology to Europe is a not-for-profit organisation that plans, builds and operates the international networks that interconnect the various national research and education networks in Europe and surrounding regions...
Paradiso
The Divine Comedy
The Divine Comedy is an epic poem written by Dante Alighieri between 1308 and his death in 1321. It is widely considered the preeminent work of Italian literature, and is seen as one of the greatest works of world literature...
), Titian was one of the most versatile of Italian painters, equally adept with portraits, landscape backgrounds, and mythological and religious subjects.
He who improvises can never make a perfect line of poetry.