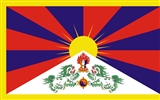 Tibet
Tibet
is a
plateau region
Tibetan Plateau
The Tibetan Plateau , also known as the Qinghai–Tibetan Plateau is a vast, elevated plateau in Central Asia covering most of the Tibet Autonomous Region and Qinghai, in addition to smaller portions of western Sichuan, southwestern Gansu, and northern Yunnan in Western China and Ladakh in...
in Asia, north-east of the Himalayas. It is the traditional homeland of the
Tibetan people
Tibetan people
The Tibetan people are an ethnic group that is native to Tibet, which is mostly in the People's Republic of China. They number 5.4 million and are the 10th largest ethnic group in the country. Significant Tibetan minorities also live in India, Nepal, and Bhutan...
as well as some other ethnic groups such as Monpas, Qiang, and
Lhoba
Lhoba
Lhoba is a term of obscure origin which has come to apply to a diverse amalgamation of Tibeto-Burman tribespeople living in and around "Pemako" , including Mainling, Medog, Zayü counties of Nyingchi Prefecture and Lhünzê County of Shannan Prefecture...
s, and is now also inhabited by considerable numbers of
Han
Han Chinese
Han Chinese are an ethnic group native to China and are the largest single ethnic group in the world.Han Chinese constitute about 92% of the population of the People's Republic of China , 98% of the population of the Republic of China , 78% of the population of Singapore, and about 20% of the...
and
Hui people
Hui people
The Hui people are an ethnic group in China, defined as Chinese speaking people descended from foreign Muslims. They are typically distinguished by their practice of Islam, however some also practice other religions, and many are direct descendants of Silk Road travelers.In modern People's...
. Tibet is the highest region on earth, with an average elevation of 4900 metres (16,076.1 ft).
Tibet emerged in the 7th century as a
unified empire
Tibetan Empire
The historic name for the Tibetan Empire is different from Tibet's present name.Traditional Tibetan history preserves a lengthy list of rulers, whose exploits become subject to external verification in the Chinese histories by the seventh century. From the 7th to the 11th century a series of...
, but it soon divided into a variety of territories.
764 Tibetan troops occupy Chang'an, the capital of the Chinese Tang Dynasty, for fifteen days.
1950 Tenzin Gyatso, the 14th Dalai Lama, is enthroned as the leader of Tibet at the age of fifteen.
1951 Tibetan delegates to the Central People's Government arrive in Beijing and draft a Seventeen Point Agreement for Chinese sovereignty and Tibetan autonomy.
1951 Tibetans sign the Seventeen Point Agreement for the Peaceful Liberation of Tibet with the People's Republic of China.
1959 Tenzin Gyatso, the 14th Dalai Lama, flees Tibet for India.