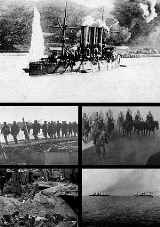 Russo-Japanese War
The
Russo-Japanese War
(8 February 1904 – 5 September 1905) was "the first great war of the 20th century." It grew out of rival
imperial
Imperialism
Imperialism, as defined by Dictionary of Human Geography, is "the creation and/or maintenance of an unequal economic, cultural, and territorial relationships, usually between states and often in the form of an empire, based on domination and subordination." The imperialism of the last 500 years,...
ambitions of the
Russian Empire
Russian Empire
The Russian Empire was a state that existed from 1721 until the Russian Revolution of 1917. It was the successor to the Tsardom of Russia and the predecessor of the Soviet Union...
and
Japanese Empire
Empire of Japan
The Empire of Japan is the name of the state of Japan that existed from the Meiji Restoration on 3 January 1868 to the enactment of the post-World War II Constitution of...
over
Manchuria
Manchuria
Manchuria is a historical name given to a large geographic region in northeast Asia. Depending on the definition of its extent, Manchuria usually falls entirely within the People's Republic of China, or is sometimes divided between China and Russia. The region is commonly referred to as Northeast...
and
Korea
Korea
Korea ) is an East Asian geographic region that is currently divided into two separate sovereign states — North Korea and South Korea. Located on the Korean Peninsula, Korea is bordered by the People's Republic of China to the northwest, Russia to the northeast, and is separated from Japan to the...
. The major theatres of operations were Southern Manchuria, specifically the area around the
Liaodong Peninsula
and Mukden, the seas around Korea, Japan, and the
Yellow Sea
Yellow Sea
The Yellow Sea is the name given to the northern part of the East China Sea, which is a marginal sea of the Pacific Ocean. It is located between mainland China and the Korean Peninsula. Its name comes from the sand particles from Gobi Desert sand storms that turn the surface of the water golden...
.
The Russians sought a warm water port on the Pacific Ocean, for their navy as well as for maritime trade.