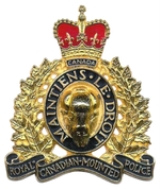 Royal Canadian Mounted Police
The Royal Canadian Mounted Police (RCMP) ( (GRC), literally 'Royal
Gendarmerie
Gendarmerie
A gendarmerie or gendarmery is a military force charged with police duties among civilian populations. Members of such a force are typically called "gendarmes". The Shorter Oxford English Dictionary describes a gendarme as "a soldier who is employed on police duties" and a "gendarmery, -erie" as...
of Canada'; colloquially known as The Mounties, and internally as 'The Force') is the national
police
Police
The police is a personification of the state designated to put in practice the enforced law, protect property and reduce civil disorder in civilian matters. Their powers include the legitimized use of force...
force of Canada, and one of the most recognized of its kind in the world. It is unique in the world as a national, federal, provincial and municipal policing body. The RCMP provides policing services to all of Canada at a federal level, and also on a contract basis to the three territories, eight of Canada's provinces (the RCMP does not provide provincial or municipal policing in either Ontario or Quebec), more than 190 municipalities, 184 aboriginal communities, and three international airports.
The RCMP was formed in 1920 by the merger of the Royal Northwest Mounted Police (RNWMP, founded 1873) with the
Dominion Police
Dominion Police
In 1868 the Dominion Police began as a police force protecting the Parliament Buildings on Parliament Hill in Ottawa and by 1911 it served as Canada's eastern police force .In May 1918, the 969...
(founded 1868).