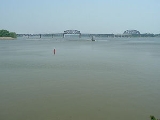 Ohio River
The Ohio River is the largest tributary, by volume, of the
Mississippi River
Mississippi River
The Mississippi River is the largest river system in North America. Flowing entirely in the United States, this river rises in western Minnesota and meanders slowly southwards for to the Mississippi River Delta at the Gulf of Mexico. With its many tributaries, the Mississippi's watershed drains...
. At the confluence, the Ohio is even bigger than the Mississippi (Ohio at
Cairo
Cairo, Illinois
Cairo is the southernmost city in the U.S. state of Illinois. It is the county seat of Alexander County. Cairo is located at the confluence of the Mississippi and Ohio rivers. The rivers converge at Fort Defiance State Park, an American Civil War fort that was commanded by General Ulysses S. Grant...
: 281,500 cu ft/s (7,960 m
3
/s); Mississippi at
Thebes
Thebes, Illinois
Thebes is a village in Alexander County, Illinois, United States. The population was 478 at the 2000 census. It is part of the Cape Girardeau–Jackson, MO-IL Metropolitan Statistical Area.-Geography:Thebes is located at ....
: 208,200 cu ft/s (5,897 m
3
/s)) and, thus, is hydrologically the main stream of the whole river system, including the
Allegheny River
Allegheny River
The Allegheny River is a principal tributary of the Ohio River; it is located in the Eastern United States. The Allegheny River joins with the Monongahela River to form the Ohio River at the "Point" of Point State Park in Downtown Pittsburgh, Pennsylvania...
further upstream. It is approximately 981 miles (1,578.8 km) long and is located in the
Eastern United States
Eastern United States
The Eastern United States, the American East, or simply the East is traditionally defined as the states east of the Mississippi River. The first two tiers of states west of the Mississippi have traditionally been considered part of the West, but can be included in the East today; usually in...
.
The river had great significance in the history of the
Native Americans
Native Americans in the United States
Native Americans in the United States are the indigenous peoples in North America within the boundaries of the present-day continental United States, parts of Alaska, and the island state of Hawaii. They are composed of numerous, distinct tribes, states, and ethnic groups, many of which survive as...
, as numerous civilizations formed along its valley.